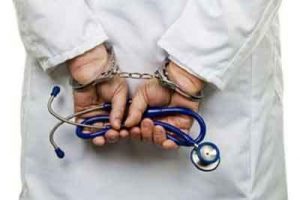 Mumbai: A doctor working at a hospital in Maharashtra's Amravati was arrested on the charge of negligence following the deaths of four infants.
Dr Bhushan Katta and a woman nurse who were on duty at the Neonatal Intensive Care Unit (NICU) of Punjabrao Deshmukh Medical College Hospital were booked on the charge of negligent act not amounting to culpable homicide.
Katta was arrested this morning, police said.
The medical college and the hospital are run by Shri Shivaji Education Society.
Four premature babies, born last week and kept in incubators in the NICU of the hospital, died in the early hours yesterday. Kailas Pundkar, senior inspector of Gagadenagar Police Station, said, "One baby died due to asphyxia and the body was handed over to the parents. The cause of deaths of other three babies is yet to be ascertained as autopsies are underway."
"We have received a preliminary report from the civil surgeon which indicates negligence by the doctor and the nurse," Kailas Pundkar, senior inspector of the Gadgenagar Police Station, said.
Based on the report, a case was registered, he added.
"The bodies were handed over to parents after autopsies.
We are waiting for autopsy reports to ascertain the cause of deaths," Deputy Commissioner of Police Shashikant Satav told PTI.
The nurse told the investigators that she gave wrong injections to the babies, another police official said.
Following the deaths, parents of the babies accused the doctors of negligence. Some activists of Maharashtra Navnirman Sena also allegedly thrashed Katta.
Civil Surgeon Arun Raut told PTI that the NICU was not sterilised regularly. His team which conducted the preliminary inquiry found 13 positive samples of 'stapilococus aureaus', a hazardus bacterium, along with traces of fungi inside the ICU, he said.
A doctor has to be present all the time in NICU which was not ensured in this case, he added.
Local MLA Ravi Rana demanded a compensation of Rs 25 lakh for the kin of each victim.
Divisional commissioner J P Guta told PTI that he would submit a report to the state government about the alleged irregularities and lapses by the hospital management.
1 comment(s) on Doctor arrested after four neonates dies at Amravati govt Hospital