Doctor, Hospital fined Rs 2.3 lakhs for leaving surgical mop in patients stomach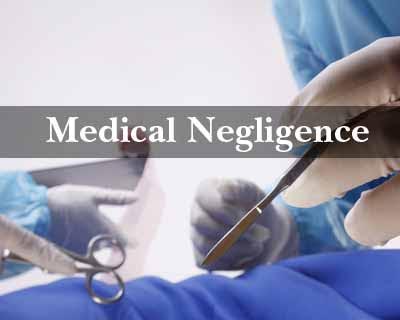 New Delhi: The apex consumer commission has held a Chhattisgarh-based hospital and one of its doctors guilty of medical negligence and directed them to pay Rs 2.3 lakh to a woman for leaving a surgical mop in her abdomen during her cesarean delivery.

National Consumer Disputes Redressal Commission bench headed by Justice Ajit Bharihoke upheld the order of the state commission and the district forum saying their findings cannot be faulted with.

The bench dismissed the appeal of Chhattisgarh's Arogya Niketan, Prasuti Grih and Nursing Home and its doctor Kiran Agarwal and directed them to pay Rs 2,30,093 along with interest to the complainant, who was operated there.

The woman was later on admitted in Arihant Hospital there where her second surgery was conducted and the surgical mop was removed from her abdomen in September 2010.

"The CT scan report coupled with the discharge summary of Arihant Hospital leaves us with no doubt that the petitioner opposite party (hospital) had committed medical negligence in leaving surgical mop in the abdomen of the complainant. Thus, the findings of the Fora below cannot be faulted.

"No jurisdictional error has been shown by the petitioners which may call for interference in exercise of revisional jurisdiction. The revision petition is accordingly dismissed," the bench also comprising member S M Kantikar said.

It noted that it was mentioned in the card of the second hospital that during surgery a surgical mop was found in the body which was sealed and handed over to the relatives.

"From this document it is established that surgical mop was actually left within the body of complainant," it said.

In her complaint, the woman alleged medical negligence in her treatment at the time of delivery of her child in May 2010.

It was alleged that the doctor while conducting cesarean delivery left the surgical mop inside her abdomen and it was later removed by a subsequent surgery on September 13, 2010 at another hospital which cost her over Rs 30,000.

The doctor and the hospital filed an appeal against the lower fora's orders saying there were material irregularities and the complainant had failed to prove that the doctor left surgical mop in her abdomen.