Mathura: Doctors allegedly leave needle inside child's head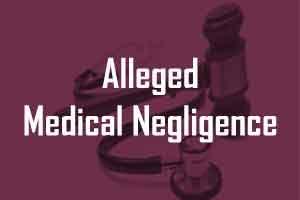 Mathura: In an incident of what appears to be medical negligence case, surgeons at a government hospital allegedly 'left' a needle inside the head of a child after his surgery.

The matter came to light when the parents of a  six-year-old boy noticed a sharp object near the stitches while changing the boy's bandage, following his surgery at the KD Medical College.

Dayal even claimed that when he informed the hospital about the matter, they allegedly dissuaded him from filing a complaint.

"I am being coerced to resolve the matter without any further proceedings. This is a sheer case of negligence. If this continues god knows how many children will be killed," Dayal said.

The father has now approached Chief Minister Yogi Adityanath, seeking justice.

SK Tyagi, an official from the Chief Minister's office said that they have are looking into the incident.

"The matter has been brought to our notice. This is a case of negligence, we will look into it," Tyagi said.

However, the hospital denied to talk to the media, saying that they are in touch with the Chief Minister's office.