Doctors on Strike after yet another assault at Delhi Govt Hospital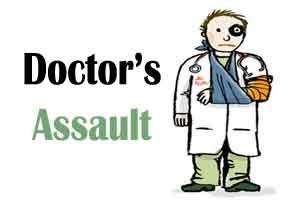 New Delhi: As a knee jerk reaction to colleague's assault, Doctors associated with Delhi's Maharishi Valmiki Hospital have been on a strike for the past three days. With no action being taken against the culprits, resident doctors remained away from their duties including emergency and OPDs.

The incident that led to the strike goes back to 19th November, when a patient named Rajbala came to the hospital with complains of chest pain. Since doctors on duty were counselling another patient, patient and attendants were asked to wait for couple of minutes when the patient and the attendant started using abusive language and derogatory remarks over doctors on duty. Soon things heated up, and the attendants assaulted the doctor on duty.

Sources at the hospital  informed Medical Dialogues team that police were reluctant in filing the FIR, and the local administration  also did not support the doctors As a knee jerk reaction, 70 resident doctors announced that they are going to refrain from working till action is taken against the culprits.

Speaking to Medical Dialogues team, Dr Pankaj Solanki, former President, FORDA and a resident doctor with the hospital said," Its not the doctors but the administration, the police and the politicians that are on strike. We doctors collectively have to stop working for the authorities to notice and register our FIR..how shameful is that??"

Doctors informed that assaults and fighting is a routine phenomena. The hospital is surrounded with JJ colonies and many patients coming to the hospital are drug addicts.

Striking doctors have also found the support of resident doctors associated with nearby hospitals, who have also threatened to avoid their duties, if the issue of assault is not addressed by the government.