Doctors to Unite against Discrimination and Exploitation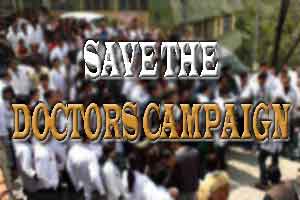 For decades now, doctors have been the soft targets of various forms of discrimination as well as exploitation. For a profession, which has its grounds in the most noble acts of humanity, it seems that doctors today are being exploited in the name of those very acts of humanity.
Unfortunately, most of this exploitation is coming from the largest employer of the workforce, the government itself. Long working hours, no uniform pay, unhygienic work environment and off lately an unsafe work environment has forced many doctors to rethink their decision of joining the medical profession, that too in a government setup.
Objections to this exploitation and discrimination are flowing in every doctors in mind. Yet lack of collected efforts on the part of medical profession makes it difficult to raise a uniform voice.
To circumvent this, and raise the issues faced by the medical profession, Associations of government doctors and resident doctors across the country are getting together including Delhi, Maharashtra, Madhya Pradesh, Karnataka etc to pen down their objections and bring about the change that is much needed.
In a petition floated by the collective efforts of resident doctors throughout the country including FORDA ( Federation of Resident Doctors Association) , MARD(Maharashtra Association of Resident Doctors ), KARD ( Karnataka Association of Resident Doctors), etc the medical profession has joined to highlight their major ailments including
1) Implementation of Central Residency Scheme
2) Same Pay for Same Work
3) Revision of the 7th pay commission recommedations
4) Central Law for Protection of Medical Personnel
The doctors are floating a petition ( a Letter to the PM) to be signed by more than 1,00,000 government doctors of the country, which shall be given to the hon'ble prime minister in the month of February asking for his intervention and calling for a high powered committee to be set up to look into the concerns of the medical profession
You can sign the petition, by clicking on the link below
https://medicaldialogues.in/petition/#