Dr Ajay Kumar conferred International Service Award by American Society for Gastrointestinal Endoscopy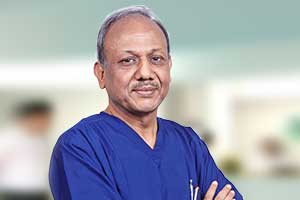 New Delhi: For his exceptional service in the field of Gastrointestinal Endoscopy for more than three decades, Dr Ajay Kumar, senior Gastroenterologist and the Chairman, Fortis Escorts Liver and Digestive Diseases Institute has been honored with International Service Award by the American Society for Gastrointestinal Endoscopy (ASGE).
Dr Kumar completed his undergraduate medical training from GGS Medical College, Faridkot (Punjab), Internal medicine training from PGIMER, Chandigarh and Fellowship in Gastroenterology from GB Pant Hospital, New Delhi. After establishing advanced endoscopy services at Indraprastha Apollo Hospital, Dr Kumar moved on to the present position of Chairman of Fortis Escorts Liver and Digestive Diseases Institute in New Delhi.
An avid researcher, Dr. Kumar has more than forty publications in the national and international journals and more than 20 papers presented at conferences. He has made significant contributions to research in the area of Corrosive esophageal strictures, nomenclature of gastric varices and post-LDLT Biliary strictures.
He has been on the International editorial board of Gastrointestinal Endoscopy, the official journal of the American society of GI endoscopy. He is on editorial board of the journal of GE & Hepatology: the official journal of Asia-Pacific Society of Gastroenterology. Currently, he is on the advisory board of journal "Gastroenterology", the official journal of the American Gastroenterology Association.
During the ceremony, Dr Kumar thanked his peers from the Endoscopy community throughout the world, who have helped him shape and achieve his career goals.
"I feel this is recognition of not just my individual efforts but that of the entire Endoscopy fraternity in India."
"With such recognition comes great responsibility, the responsibility to not let your quest for excellence wane and confidence placed in you not be belied," the doctor quoted.
ASGE promotes excellence and innovations in gastrointestinal endoscopy with more than 15,000 members worldwide. The society provides the highest standards for endoscopic training and practice with the foremost resource for endoscopic education. It also recognizes distinguished contributions to endoscopy and fosters endoscopic research as well.