Dr Ashok Seth conferred Life Time Achievement Award in Interventional Cardiology for 2016
Dr Ashok Seth, Chairman, Fortis Escorts Heart Institute has been conferred with the prestigious "Life Time Achievement Award in Interventional Cardiology" by the Chien Foundation, Singapore at the premier annual meeting of Asian Pacific Interventional Cardiology – AsiaPCR SingLIVE 2017 in Singapore. The meeting was attended by over 2000 interventional cardiologists from across the world.
The Chien Foundation, Singapore is a 20-years old Scientific Foundation constituted by very senior Interventional Cardiologists of the Asia Pacific Region with an aim of training and research contributing to, and improving, the practice of cardiovascular medicine in the Asia-Pacific region.
Earlier, Dr Ashok Seth had the privilege of being invited to demonstrate complex angioplasty techniques through Live Case transmission from FEHI to AsiaPCR/SingLIVE is 2016.
Dr Ashok Seth has been this year invited to perform live case transmission of complex angioplasty cases especially in Bio Resorbable Stents from FEHI to 'INDIA LIVE' meeting in New Delhi in March, CSI-NIC meeting in New Delhi in April, ARCH meeting in St. Louis, Missouri (USA) in April. He is also been invited to perform Live Case in Seoul, Korea in April at the Asia Pacific TCT and at Massy Hospital, Paris for the EuroPCR in May.
"It is indeed an honour to get this highly prestigious recognition from my peers in Asia Pacific region. I also feel privileged and humbled to be amongst the 'greats of interventional cardiology' from across the world who have got this award in previous years. Though this is a 'Life Time Achievement Award', I feel I have another life time ahead to contribute further to education, training and developing interventional cardiology in the region."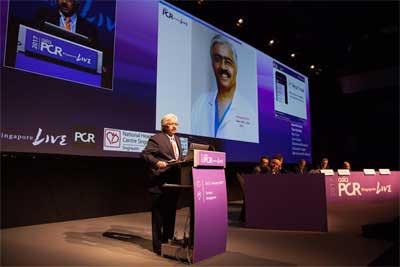 This is the second honour conferred to the senior cardiologist this year. On March 28th, 2017, Dr Seth was given the Dr BC Roy award for the year 2015, in the category of Eminent Medical Person by the President of India.
Read Also: Dr Ashok Seth Confered with Prestigious Dr BC Roy Award