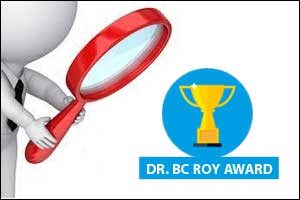 New Delhi: The process of bestowing national honors cannot be kept away from public scrutiny, the Central Information Commission (CIC) has ruled as it directed the Medical Council of India (MCI) to furnish information regarding Dr. B.C. Roy National Award, conferred on ace doctors of the country annually by the President.
RTI applicant R Natarajan had sought records submitted by awardees and probable candidates for 2008, 2009 and 2010 and the process of selecting the recipients. Medical Dialogues had earlier reported that 25 medical practitioners across the country had been conferred the Dr BC Roy Award for the year 2008, 2009, 2010
Read Also: 25 Doctors conferred Dr. BC Roy Award by the President on Doctors Day
The application was submitted to the Union Health Ministry, which transferred it to the Medical Council of India, the regulator of medical education and profession in the country. The MCI, however, did not respond to it satisfactorily.
This prompted Natarajan to file an appeal against the MCI order in the CIC, the highest adjudicating body in matters pertaining to the Right to Information Act.
He said Dr. B.C. Roy National Award is a national honor bestowed upon eminent doctors of the nation, which is considered as a highest recognition in the medical domain.
"He (Natarajan) submits to have sought information regarding the selection process for awards given in years 2008 to 2010 by the MCI," Information Commissioner Yashovardhan Azad noted.
Though the BC Roy Award fund is registered as a society under the Societies Registration Act with members drawn from the MCI, still it does not partake a distinct legal character as far as access of information is concerned, he noted.
"In the garb of functional autonomy, the parent body MCI cannot be said to have abrogated its right to access information from the society. The technical expertise extended by MCI in selection of awardees is crucial sole object of the society," he said.
Azad said the "entrustment of assessing the nominations" for the coveted recognition to the society established under the patronage of MCI will not make much of difference as far as access of information is considered.
"The process of bestowing national honours cannot be kept away from public scrutiny. Any practice facilitating opacity will go on to diminish the sanctity of the honour and its past recipients," Azad said as he directed the MCI to provide information within three weeks.
The Bidhan Chandra (B C) Roy Award was instituted in 1976 in memory of B. C. Roy by Medical Council of India. The Award is presented by the President of India in New Delhi on July 1, the National Doctors' Day.
16 comment(s) on Dr BC Roy Award Under Scanner : CIC directs Medical Council of India to furnish information