Dr Harsh Vardhan appeals to doctors to Join GREEN MOVEMENT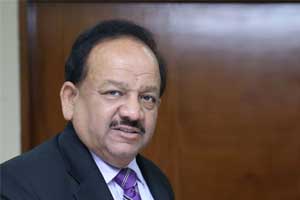 Make GREEN movement a success like Pulse Polio drive - Asked Dr Harsh Vardhan at World Environment Day function hosted by the Delhi Medical Association (DMA)
Union Environment Minister Harsh Vardhan appealed to doctors today to join the green movement launched by his ministry to make it successful like the Pulse Polio campaign.
Urging the medical fraternity to build a social movement around the Green Good Deeds (GGDs), the minister said that ground level works were more important for tackling pollution.
"The role of doctors was crucial in the success of Pulse Polio campaign and the same is required now for the success of action against environmental pollution," he said at a World Environment Day function hosted by the Delhi Medical Association (DMA).
Vardhan, who was the president of DMA as well as Health Minister of Delhi in 1994, was credited with the success of Pulse Polio pilot project in the city.
The Environment Minister said that during his visits to different parts of the country and interactions with a large number of people, he had sensed that there was a willingness among people to work for environmental protection.
Talking about GGDs, he said that these small acts such as not utilizing single-use plastic can go a long way in protecting the environment.
"We have listed around 700 such small acts that do not need extra effort or money. An app has also been launched to help people learn about these deeds and follow them," he said appealing to the gathering of doctors to popularise it.
Vardhan also presented certificates to the doctors and administered the oath as "green ambassadors" to create awareness about environment conservation.
The minister said that the greed good deeds have been formally accepted by the United Nations Environment Programme (UNEP) and the global community has started believing that India can provide the right direction and a model to combat pollution and protect the environment.
DMA president Ashwini Goel said that the association would create a task force to launch "no plastic" campaign and enlist 3,000 doctors as green ambassadors.
The moderator of the programme, Dr. Harish Gupta, assured the minister that doctors would join the campaign of green good deeds in large numbers as was the case with the Pulse Polio programme.