Dr Hema Divakar conferred with Global Asian of the Year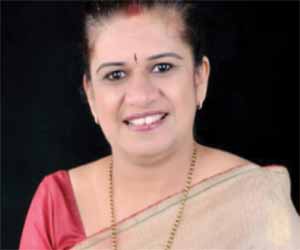 To be recognised with other achievers of Asia thrusts on me greater responsibility and ownership to reform the women's healthcare ecosystem in an innovative and impactful manner," said Dr Hema Divakar
Bengaluru: Dr Hema Divakar, Founder and Medical Director, Divakars Specialty Hospital; CEO & Chairperson, ARTIST and Former FOGSI President won the 'Global Asian Of The Year' award.
The award in recognition of her contributions in the category 'In Service of The Society and the Nation" was presented by Mr Mohammed Naser Hamdan Al Zaabi, Director of Trade Promotion Department in Ministry of Economy & Jon. Ambassador of Foreign Investment Promotion-Korea, at 'World's Greatest Brands and Leaders 2018-19 Asia event, organized by Asia One - A Pan Asian Business and News Publication.
Read Also: 
Apollo Joint MD Dr Sangita Reddy Conferred with Best Female Healthcare leader award
Dr Hema Divakar, a pioneering voice in Asia for Women's Healthcare and Medical Director, Divakars Speciality Hospital, was 'Global Asian of the Year 2018-19' along with the first Deputy Prime Minister and Crown Prince of Saudi Arabia Mohammed bin Salman bin Abdulaziz, Mukesh Ambani of Reliance Industries, Madam Ho Ching, CEO of Temasek Holdings and wife of Singapore's Prime Minister Lee Hsien Loong and Yusuff Ali MA, Lulu Group's CMD.
"The award is conferred on those who stand out for vision, action and ingenuity and represent contemporary ideas to make a global impact," said the pan-Asian business and news publication in a statement here.
Hema is also spearheading a healthcare initiative for the overall well-being of women, with affordable and quality treatment.
"To be recognised with other achievers of Asia thrusts on me greater responsibility and ownership to reform the women's healthcare ecosystem in an innovative and impactful manner," said Hema on the occasion.