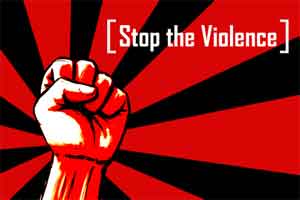 New Delhi: The brutal assault of a young medico Dr Paribaha Mukherjee at the Kolkata based NRS medical college has invoked a sharp reaction from the medical fraternity with doctors taking to streets across the country, demanding the government address the issue of Violence against doctors on priority.
The protests rightfully demanding adequate security at workplace, direct intervention of the government and punishment against those who assaulted the doctors at NRS Medical College; were observed widely in the national capital and states of Punjab, Haryana, Karnataka, Rajasthan, Maharashtra, Odisha, Goa, Telangana and Uttar Pradesh.
Here are some of the live updates of the nationwide protests:
................................ Advertisement ................................
Mass Resignation Move begins
While doctors at NRS medical college continued to be on strike for the third consecutive day despite threats from the Mamata government of action. The CM's reaction to the entire incident drew further ire from medicos who have now begun a mass resignation campaign in response to the CM's Comments.
Angry doctors in Bengal have set six conditions including an unconditional apology from Ms Banerjee and action against those who assaulted their colleagues to withdraw their protest.
................................ Advertisement ................................
Not just NRS Medical College, but hundred of doctors from RG Kar Medical College and Hospital and other state-run medical facilities today tendered their mass resignation expressing solidarity with protesting junior doctors at NRS.
The development follows a day post the resignation of the MS and the principal of the Medical College.
The NRS Medical College Principal Saibal Mukherjee sent in his resignation to the director, Medical Education.
The hospital Medical Superintendent and vice principal Sourav Chatterjee also put in his papers. "We are sorry. This government is so shameless, that even our principal has had to resign," said a representative of the striking doctors
No interim order on strike- Calcutta HC
Calcutta high court has refused to pass interim order on strike by junior doctors in state-run hospitals, and has asked West Bengal government to persuade them to rejoin work, reported news agency PTI. A PIL had been filed in Calcutta High Court by Kunal Saha of People for Better Treatment, seeking that the doctors' strike in the state be declared illegal. The HC has sought details of what steps had been taken by West Bengal on attack on doctors and the doctors' strike, by next Friday. In states such
ALL India Protest Day
Showing its agitation on the matter the India Medical Association declared "All India Protest Day" on Friday, with doctors in many parts of the country holding protests. The IMA had written to all its state branches, which are now individual spearheading protests in their respective states.
Resident Doctors Boycott Work
Resident doctors across the country have boycotted work today. Even the functioning of AIIMS saw a mark of protest by doctors.
Members of the Resident Doctors' Association of All India Institute of Medical Sciences (AIIMS) worked while wearing helmets and bandages to extend support to protesting doctors in West Bengal.
As a mark of protest, the resident doctors held up placards which read, "We are not terrorists! We are doctors, we save you. #stopviolenceagainstdoctors. AIIMS residents stand with NRSMCH. #savethesavior #saveyourself. We demand a safe workplace."
All out-patient clinics and routine services will remain suspended at New Delhi's All India Institute of Medical Sciences (AIIMS) and the Safdarjung Hospital with over 3,500 resident doctors from the two hospitals striking work.
Maharashtra Association of Resident Doctors (MARD) are observing strike today over violence against doctors in West Bengal. Official statement says, "We are shutting down our OPD, ward and academic services from 8 am to 5 pm today. Emergency services will not be hampered."
Resident doctors at Raipur's Dr Bhimrao Ambedkar Memorial Hospital raised slogans of 'We Want Justice' as they launched their protest over violence against doctors in West Bengal, reported news agency ANI.
In a letter submitted to director IMS BHU, the senior and junior residents have mentioned that they would boycott OPD, IPD and general OT works. But, they would not let it affect emergency and emergency OT services.
Doctors in Allahabad, both at government and private nursing homes, are wearing black ribbon as a mark of protest against the Kolkata incident. At SRN hospital, OPD's are not functioning while doctors are running only emergency services
PGI, Chandigarh doctors also joined protest against violence.
AIIMS Bhubaneswar students also tookout a rally in solidarity
In Rajasthan's Jaipur, doctors at Jaipuria hospital carriee out their duties wearing black bands as a mark of protest over violence against doctors in West Bengal.
Members of Indian Medical Association in Kerala'sTrivandrum held protest over violence against doctors
Union Health Minister Dr Harsh Vardhan meets AIIMS doctors
Union health minister Harsh Vardhan meets with doctors of New Delhi AIIMS who are also on strike in support of the stir by junior doctors in West Bengal.
Union Health Minister, Dr Harsh Vardhan on Friday appealed to striking doctors across the country to hold only symbolic protests. He told ANI, " I'd like to assure all doctors that the government is committed towards their safety. I appeal to doctors to hold symbolic protests only & continue to carry out their duties."
At the Same time the Union Health Minister, also a medical practitioner, appealed to West Bengal CM to ensure secure working environment for the doctors.
IMA Calls for Nationwide Shutdown
The Indian Medical Association has called for a nationwide doctors strike on the 17th June 2019
"Any form of violence against medical profession and facilities will be counterproductive, demoralise health providers, thus taking away the confidence and courage of medical profession especially in critical situations," stated IMA's letter to Home Minister Amit Shah.
Author Details
Meghna A Singhania is the founder and Editor-in-Chief at Medical Dialogues. An Economics graduate from Delhi University and a post graduate from London School of Economics and Political Science, her key research interest lies in health economics, and policy making in health and medical sector in the country.
She can be contacted at editorial@medicaldialogues.in.
Contact no. 011-43720751
................................ Advertisement ................................
9 comment(s) on Dr Paribaha Mukherjee's Assault: Doctor Protests, Mass Resignations, Duty Boycotts Reverberate across the country