Dr RV Asokan elected Secretary General of IMA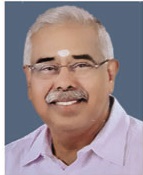 New Delhi: Dr RV Asokan has been elected as Secretary General of the Indian Medical Association (IMA) after the recently held elections for the post. He will take charge of the honorary post of Secretary-General for the next two years at Bangalore on December 28, 2018.
Confirming his position to Medical Dialogues, Dr Asokan informed "The position of General Secretary of IMA holds dignity and grace. IMA speaks of people's perspective opinion and concerns. There will be a responsibility for medical professionals as well as others."
Detailing about plans for his tenure, he told Medical Dialogues that, "There are a bunch of responsibilities that have arrived with the post. I will put forward the legal security, the personal and the professional concerns on behalf of the doctors."
"The IMA will move extra miles in public health. The focus will be  toexecute the plan to set up public health centres like blood bank, cancer treatment hospitals etc, to maximize the health services," Dr Asokan added.
Dr Asokan is a practicing physician based in Punalur, a small town in Kollam district, Kerala. Post MBBS, he completed MD in
General Medicine
. He was the IMA state secretary of Kerala state for 3 years and also served as its state president.
He conceived and established IMAGE which was a project to handle bio medical waste of entire Kerala, he was the chairman of the scheme for six years. He also played the lead in bringing Rs 100 crore GFATM TB public-private mix project to IMA and served as its National coordinator for 6 years. He served for two years in Strategy and Technical Advisory group for TB in WHO (Geneva) and is one of the contributors of international standards for TB care. He served as the National Joint Secretary of IMA hospital board of India for 4 years and its chairman for the past 4 years.