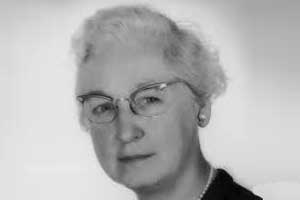 New Delhi: Google recently dedicated a Doodle to honour Dr Virginia Apgar, a pioneering US clinician who developed a quick health test for infants to determine if a newborn needs help to breathe or having heart trouble.
The Doodle marks what would have been Dr Apgar's 109th birthday. Dr Apgar developed the now ubiquitous 'Apgar score' in 1952.
Apgar score
................................ Advertisement ................................
The Apgar test is performed on a baby at 1 and 5 minutes after birth. The 1-minute score determines how well the baby tolerated the birthing process and the 5-minute score tells the health care provider how well the baby is doing outside the mother's womb, according to the US National Library of Medicine.
................................ Advertisement ................................
The test can be performed by a doctor, midwife, or nurse to examine the baby's breathing effort, heart rate, muscle tone, reflexes and skin colour. Each category is scored with 0, 1, or 2, depending on the observed condition.
The test is based on a total score of 1 to 10. A score lower than 7, should warn caregivers that the baby needs medical attention. A higher score in the test means less threat to the baby's survival.
The Apgar score contributed immensely towards reducing infant mortality.
Who was Dr Virginia Apgar?
Dr Virgina Apgar was born in 1909 in Westfield, New Jersey. She graduated from the College of Physicians and Surgeons at Columbia University (P&S) in 1949, when the US had just seven female doctors.
Virginia Apgar became the first female anesthesiologist, a physician, dentist or nurse trained in anaesthesia and perioperative medicine, treating the newborn babies with the required medical attention, reports Mail Today.
She was appointed the first woman Professor at the College of Physicians and Surgeons of Columbia University in 1949, according to a biography of the clinician at the Columbia University website.
She passed away due to cirrhosis of the liver on August 7, 1974. Dr Apgar's work on prevention of infant mortality was eventually recognised as she was inducted into the National Women's Hall of Fame in the US. A US postage stamp carrying her portrait was also released after her death.
Author Details
Garima joined Medical Dialogues in the year 2017 and is currently working as a Senior Editor. She looks after all the Healthcare news pertaining to Medico-legal cases, MCI/DCI decisions, Medical Education issues, government policies as well as all the news and updates concerning Medical and Dental Colleges in India. She is a graduate from Delhi University. She can be contacted at editorial@medicaldialogues.in Contact no. 011-43720751
To know about our editorial team click here
................................ Advertisement ................................
0 comment(s) on Dr Virginia Apgar: Google Doodle Honours American Anesthesiologist on her 109th Birthday