eNICU: Apollo Cradle launches network of Advanced Technology Neonatal ICU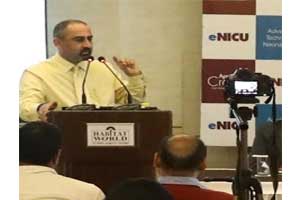 New Delhi: In a development that is expected to significantly improve neonatal care capabilities in India, Apollo Cradle, India's leading Women & Childrens' Hospital, unveiled its 'Advanced Technology Neonatal Intensive Care Unit' (eNICU), on Wednesday. This is the first time in India that a large network of women and children hospitals like Apollo Cradle is going live with this initiative across India.
Apollo Cradle has built a reputation for clinical excellence and has the capabilities to handle high-risk pregnancies and complex pre-term babies. Through the eNICU, Apollo Cradle specialists will now be able to monitor minute details including medication levels, nutrition, feeding pattern, calorie and growth charts of babies, whilst in the hospital and also remotely. This eNICU will also help Apollo Cradle doctors support NICU's in smaller towns. The real-time monitoring of pre-term babies, with complete digital records, will improve clinical outcomes and provide world-class treatment in India. This initiative is in line with Apollo Cradle's philosophy– "With us, you are always in Safe Hands".
During the launch ceremony of eNICU, Dr. Anupam Sibal, Group Medical Director, Apollo Hospitals Group & Senior Consultant Pediatric Gastroenterologist and Hepatologist, Indraprastha Apollo Hospitals said: "eNICU at Apollo Cradle will enable the care of babies that is difficult in most other hospitals. It will help doctors and medical officials monitor each baby from a central location. The cloud-based system also manages doctors' workflow, nursing workflow and resident doctor handovers."
On the occasion, Mr. Neeraj Garg, CEO, Apollo Health & Lifestyle Ltd. said: "Apollo has always believed in bringing world-class technologies to India, and ensuring that our patients get the best clinical care. With this belief, the launch of the eNICU shall give pre-term babies in India the same quality of care that the best hospitals internationally can offer. Apollo Cradle's investment in this technology is being done to give Indian parents the clinical services that they cannot access in other hospitals".
Dr. Avneet Kaur, Senior Consultant, Neonatology Department, Apollo Cradle Hospital said. "eNICUwill significantly improve the efficacy of our neonatal services. One major advantage is that retrieval of records becomes easier as everything will now be recorded in digital format. The digitisation also reduces duplication errors as it removes the need for multiple manual data entry. There are added benefits for doctors as the new system allows for integration of various neonatal measurement scores and acts as a clinical decision support mechanism by notifying doctors of upcoming infection in presymptomatic stage."
Dr. Gaurav Jawa, Senior Neonatology and Paediatric Consultant, Apollo Cradle spoke "eNICU is a cloud-based solution leveraging technologies like Internet of Things (IoT) and Big Data that enable the connectivity to multiple sources of data from various devices. It is able to process all this information and to a large extent automate many responsibilities of nurses, doctors and even administrators. This is then captured in a dashboard kind of setup and virtually eliminates human error. It will have a direct impact on reducing infant mortality rates – a great boon to society."