ENT Surgeon, Dr Harsh Vardhan Appointed Union Health Minister in Modi Government 2.0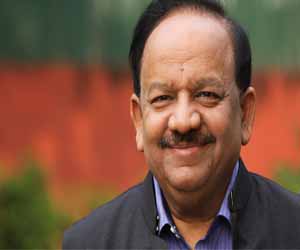 New Delhi:  An ENT surgeon by profession, and a BJP stalwart, Dr Harsh Vardhan has been appointed the Union Minister of Health and Family Welfare in the new cabinet appointment of the Modi Government 2.0. He has additionally been given the charge of two more ministries including Ministry of Science and Technology; and Ministry of Earth Sciences.

Dr Harshvashdhan pursued his MBBS and MS (ENT) from GVSM Medical College in Kanpur. In 1992, he was elected as a member of the Delhi Assembly representing Krishna Nagar after which he served as the Health Minister for the Delhi State. He holds to his credit the successful implementation of the pilot project of the Pulse Polio Programme which involved the mass immunisation of 1 million children up to the age of 3 in Delhi. The programme was soon launched nationwide leading to 88 million children being immunised.

After his successful stint as 5-time MLA, in the 2014 Lok Sabha elections, Dr Harsh Vardhan contested the Chandni Chowk seat in Delhi and was soon appointed the Minister of Health and Family Welfare. However, he was later shifted and given the charge of the Ministry of Earth Sciences and Ministry of Science and Technology.

In May 2017, Dr Harsh Vardhan was given the additional charge of the Ministry of Environment, Forest and Climate Change following the death of Union minister Anil Madhav Dave.

Dr Harsh Vardhan joined the Indian Medical Association's Delhi Chapter in 1984 and also held various posts in the Delhi Medical Association - from Secretary and President (East Delhi) to State Secretary and President.

Before him, now stands the herculean task of implementation of the world's largest healthcare scheme, Ayushman Bharat. The scheme envisions providing around 50 crore poor people with health insurance worth Rs 5 lakh every year. The government has treated more than 10 lakh people free of cost, under the scheme since September 2018.