Case of Strawberry Tongue in Streptococcal Pharyngitis reported in NEJM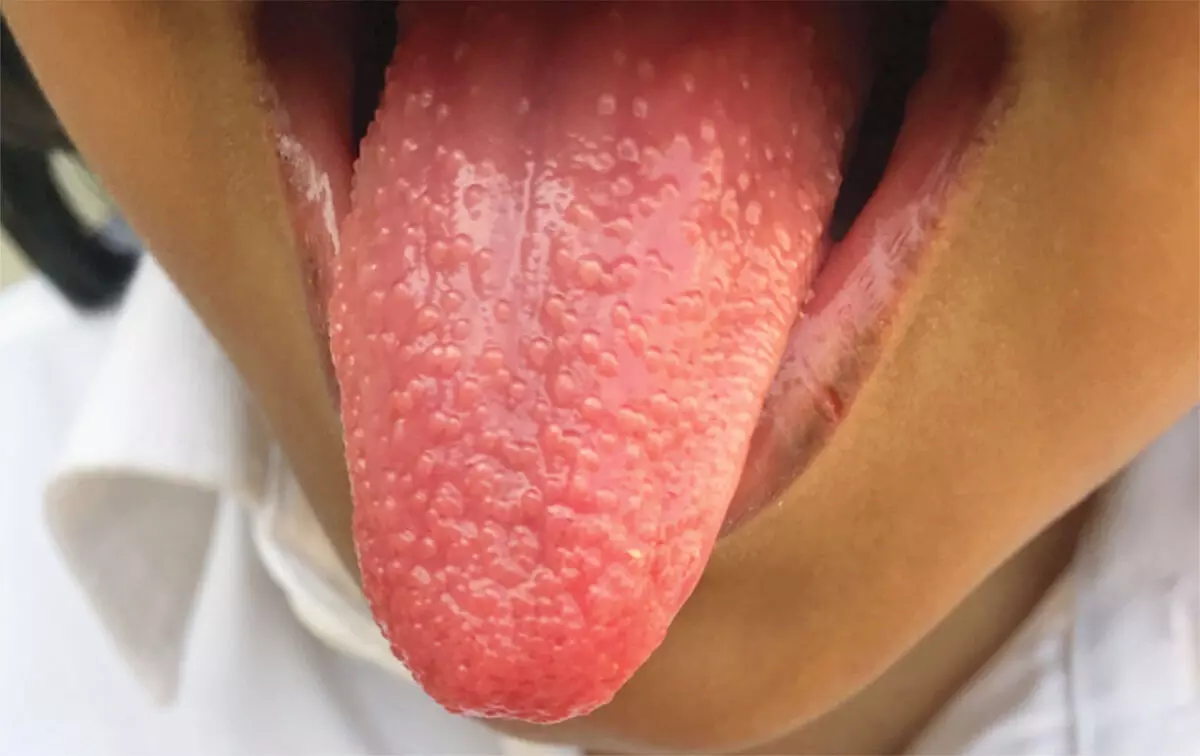 Dr Monalisa Sahu, at All India Institute of Medical Sciences, New Delhi, India and Dr Pradipt R. Sahoo at Kalinga Institute of Medical Sciences, Bhubaneswar, India have reported a case of Strawberry Tongue in Streptococcal Pharyngitis. The case has been published in New England journal of Medicine.
Morphological alteration of the dorsum of the tongue is seen in many disorders. These include alteration in color such as pallor and redness and surface alterations, giving rise to "balding," "geographic tongue," and the "strawberry tongue."
The topographic alteration leading to strawberry appearance of the tongue is possibly the desquamation of the keratinized epithelium of the filiform papillae. This gives a red denuded appearance to the surface that is interspersed with persistent, inflamed and hypertrophic fungiform papillae (seeds of strawberry).
Strawberry tongue looks more bumpy than usual and may be a symptom of a food or drug allergy.The treatment for strawberry tongue depends on the underlying cause.
There are a variety of pre-existing conditions that may cause the onset of a strawberry tongue. These may include, but are not limited to, the following:
• Kawasaki disease
• Scarlett Fever
• Food or drug allergies
• Toxic shock syndrome
• Vitamin B12 deficiency
According to the history, a 5-year-old girl presented to the pediatric clinic with a 3-day history of fever, sore throat, and pain with swallowing. She had no associated cough, rhinorrhea, or hoarseness.
The temperature was 40°C. On examination, she appeared to be ill, with dry mucous membranes and tender anterior cervical lymphadenopathy. She had fissured lips and a red tongue with enlarged papillae, an appearance referred to as a strawberry tongue. The tonsils were enlarged and edematous with exudates. She had no rash, conjunctival congestion, oral ulcers, or splenomegaly. Laboratory studies showed a total leukocyte count of 14,400 cells with 73.0% neutrophils, 19.0% lymphocytes, and 0.9% atypical lymphocytes.
The throat culture was positive for group A streptococcus, and a diagnosis of streptococcal pharyngitis was made. A strawberry tongue can also be present in other conditions, including Kawasaki's disease. She received treatment with oral amoxicillin for 10 days and had a complete recovery. She had no recurrence of symptoms at follow-up 3 and 6 months later.