Preoperative CT shows promise in increasing success rates of rhinoplasty;claims study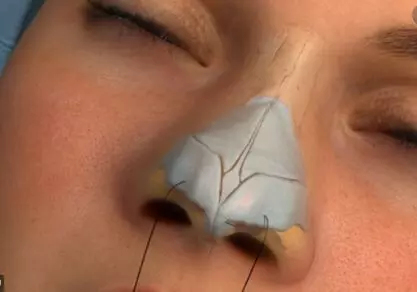 According to a recently published study in International Journal of Otolaryngology, perioperative CT is associated with greater patients' satisfaction and quality of life after rhinoplasty compared to either nasal endoscopy or anterior rhinoscopy.
Previous studies have pointed out that the primary reason for revision rhinoplasty is nasal tip asymmetry followed by breathing difficulties or nasal obstruction . Therefore, the endonasal mucosal or anatomic pathologies which could lead to poor functional results and dissatisfaction should not be neglected when planning for surgery . A thorough perioperative assessment of patients can lead to proper patient selection, planning, and better functional and aesthetic outcomes . Although computed tomography (CT) scan has become an integral part of the diagnostic paradigm for patients with pathologies of the paranasal sinuses, the use of CT scan for preoperative evaluation of patients seeking rhinoplasty is up for debate.
Researchers soughtto carry out the present study with the aim to compare the efficacy of CT scan in diagnosing nasal pathologies with other evaluating tools in patients undergoing rhinoplasty.

As for the study design,In this randomized controlled trial study, 74 consecutive patients seeking cosmetic rhinoplasty referred to otorhinolaryngology clinic were randomly assigned into three groups based on the perioperative evaluation method: the CT group, the nasal endoscopy group, and the control group (anterior rhinoscopy only). Surgical planning was made according to perioperative findings, and the identified endonasal pathologies were corrected during the surgery.
The functional and aesthetic outcomes of the rhinoplasty were assessed by Nasal Obstruction Symptom Evaluation (NOSE), Rhinoplasty Outcome Evaluation (ROE), and the Visual Analogue Scale (VAS) tools before surgery and at 12-month follow-up.
Data analysis revealed some interesting facts.
All outcome measures improved significantly in either group toward one year after rhinoplasty (all with value <0.05).
Subjects in the CT group demonstrated greater improvement in the NOSE, VAS, and ROE compared to other two groups (NOSE: value = 0.17; VAS: value = 0.024; ROE: value = 0.042).
"In summary, tough the identification of endonasal deformities could be feasible with different evaluation tools, CT scan seems to be a superior method with better subjective outcomes after rhinoplasty compared to anterior rhinoscopy and nasal endoscopy."the team concluded.
For the full article follow the link: https://doi.org/10.1155/2020/5929754
Primary source: International Journal of Otolaryngology
Source : International Journal of Otolaryngology