Allergic rhinitis-an overview on treatment recommendations and current guidelines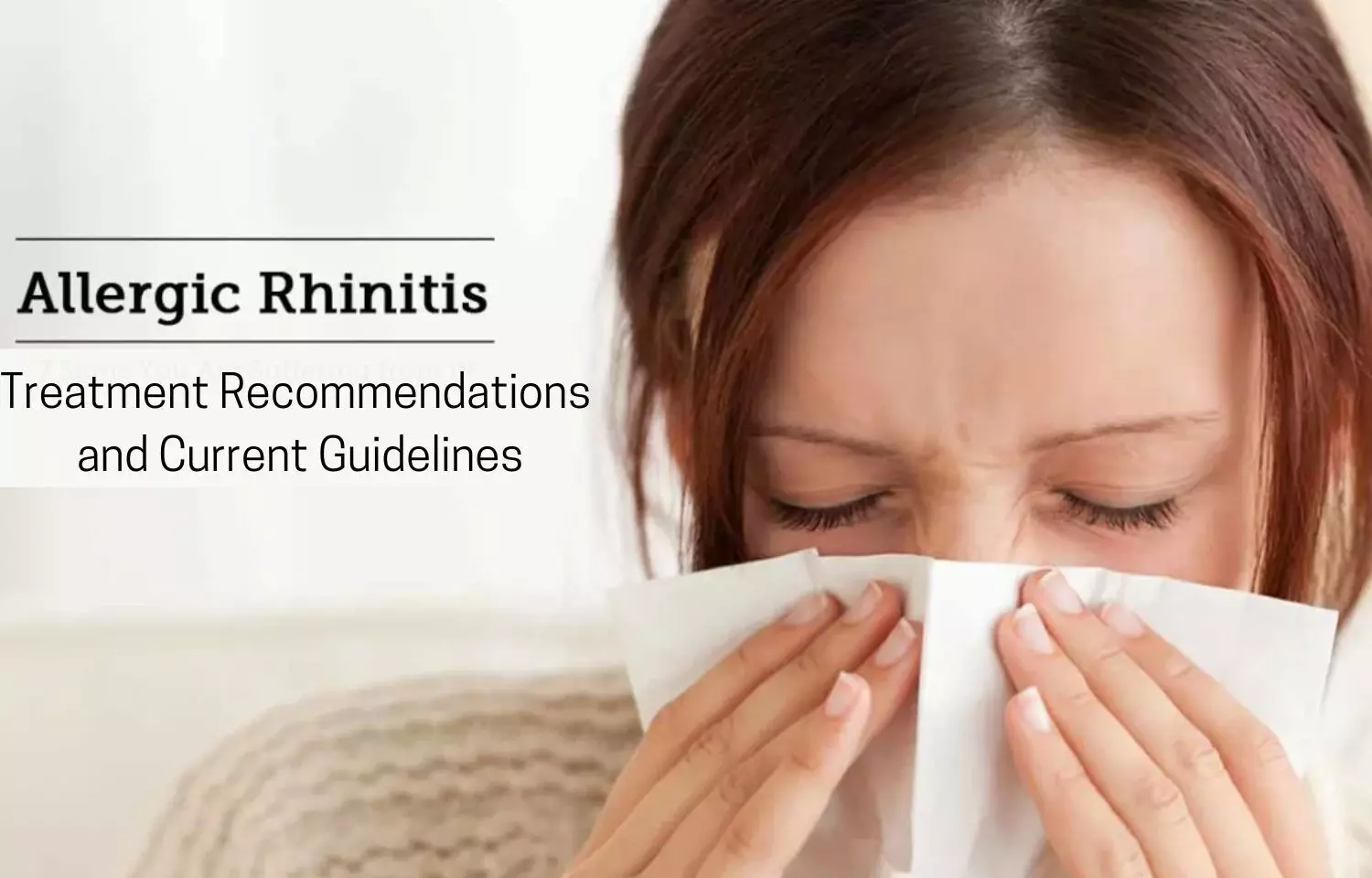 Regarded to be an Ig-E mediated inflammatory disorder, most commonly affecting the nasal mucosa and its associated structures, Allergic Rhinitis (AR) affects approximately 20–30 % of the Indian population, while 15% of them develop asthma subsequently. (1) Usually encountered with symptoms ranging from rhinorrhea, sneezing, nasal itching, and nasal congestion, Allergic Rhinitis, if not appropriately, managed can lead to chronic conditions like sleep disturbance, fatigue, depressed mood, and cognitive function compromise, ultimately impairing the quality of life drastically. (1)
Research has confirmed that AR is likely to be associated with co-morbid conditions including asthma, atopic dermatitis, nasal polyps, conjunctivitis, postnasal drip, Eustachian tube dysfunction, otitis media, sinusitis; as well as dental malocclusions & facial deformities. (1)
A look into the disease burden –Acknowledged as being a global health concern, the incidence of AR lies between 1.4–39.7 % in western countries. (1)

Exhibiting significant differences in prevalence depending on geographic locations, individuals having severe, persistent AR are more prone to developing asthma in later life. Epidemiological studies have now revealed that one out of every five individuals with rhinitis develops asthma in their later life. (1)
Reports from a nationwide epidemiological survey conducted across 10 cities in India reveal that AR and asthma co-exist among 65.24% of the patients. (2) More alarming is the fact that AR is prevalent in 11·3% of children aged 6–7 years, and 24·4% of children aged 13–14 years, in India. (3)
With research highlighting that early, aggressive management of Allergic Rhinitis can prevent the development of asthma, while cutting the increased hospitalization costs (1), it is high time that physicians be well-aware and remain updated on the guidelines and recommendations in managing the same.
Standard treatment algorithms of AR are usually formulated depending on the disease severity, chronicity, and associated co-morbidities of a patient. (4, 5) Combining therapies of allergen avoidance, pharmacotherapy, and targeted allergen immunotherapy are the cornerstones of treating AR successfully. (1, 6)
Summarizing the guidelines-Where do we stand?
Responsible for developing internationally applicable guidelines for allergic respiratory diseases, (5) the ARIA (Allergic Rhinitis and its Impact on Asthma) recommends that –
1. In patients with seasonal AR, intranasal corticosteroids (INCSs) are recommended, or a combination of INCSs and oral antihistamines (OAH). In patients with persistent AR, INCSs alone are recommended rather than a combination of INCSs + OAH. In patients with severe seasonal AR, a fixed combination of INCSs and intra-nasal antihistamines(INAH), or INCSs alone is recommended; the choice of therapy also depends on the patient's preferences.
2. The fact that Oral or intranasal H1-antihistamines are less effective in controlling all rhinitis symptoms than intranasal corticosteroids (INCSs) has been stressed. However, they are effective in many patients with mild to moderate disease, who may prefer oral medication.
3. 1st generation Oral H1-antihistamines are sedating and should be avoided, as well as the prolonged use of nasal alpha-sympathomimetics (in vasoconstrictive nasal sprays).
The International Primary Care Respiratory Group; British Society for Allergy and Clinical Immunology; and American Academy of Allergy, Asthma, and Immunology recommend intranasal corticosteroids alone for the initial treatment of persistent symptoms affecting the quality of life and second-generation non-sedating antihistamines for mild intermittent disease. (6) they further highlight that patients with more severe diseases not responding to intranasal corticosteroids with or without second-line therapies should be referred for consideration of immunotherapy.

In 2017, a Joint Task Force on Practice Parameters (JTFPP) of the American Academy of Allergy, Asthma, and Immunology (AAAAI), the American College of Allergy, Asthma, and Immunology (ACAAI), and the Joint Council of Allergy, Asthma, and Immunology, came together and developed a focused guideline document on seasonal allergic rhinitis (SAR) treatment following the Grading of Recommendations, Assessment, Development and Evaluation (GRADE) approach. (7) The key recommendations are as follows-
1. For initial treatment of nasal symptoms of seasonal allergic rhinitis in patients more than 12 years of age, clinicians should routinely prescribe monotherapy with an intranasal corticosteroid (INCS) rather than a combination of an intranasal corticosteroid with an oral antihistamine.
2. They should recommend an intranasal corticosteroid over a leukotriene receptor antagonist (>15 years of age), as during monotherapy INCSs are a more effective choice than LTRAs.
3. For moderate to severe symptoms, physicians may recommend the combination of an intranasal corticosteroid and an intranasal antihistamine.
Pediatric guidelines-Acknowledging that 40% of children suffer from AR at any time of life, the Indian Academy of Pediatrics (IAP) has put forth the recent 2022 recommendations on the pharmacological treatment of AR in children. The team highlighted that treatment should be approached in a stepwise manner. (8) The main points in the guidelines have been summarized below.

The choice of drugs predominantly depends on the dominant symptoms the child suffers from.
Second-generation antihistamines are drugs of choice in mild intermittent AR, owing to their better safety-efficacy ratio.
Although intranasal antihistamines are recommended in >6 years in children, they should be avoided, whenever possible, for their bitter taste and somnolence.
Oral decongestants are not recommended in children due to their systemic side effects.
Inhaled nasal steroids (INS) are the controller medications of choice. The technique of INS should be evaluated during each visit.
An INS with low systemic bioavailability like mometasone or fluticasone furoate at a minimum dose required to achieve symptom control should be chosen, for children above 2 years.
Allergen-specific immunotherapy (AIT or desensitization) is recommended in difficult-to-treat moderate to severe and/or persistent AR by a trained allergist. Sublingual immunotherapy (SLIT) and subcutaneous immunotherapy (SCIT) are the two most common modes of immunotherapy.
The way forward-Though a common problem, AR is often under-appreciated, underdiagnosed, and overlooked by physicians as well as patients (2), leading to increased health burden both for individuals and society. (7) Intending to improve patient care, guidelines and recommendations on AR are continuously undergoing changes and updates. With more and more research focusing on standardized evidence-based studies and novel pharmacological approaches, the available guidelines on AR are undergoing an evolutionary phase.
Under such scenarios, the onus lies upon the medical fraternity to keep an open eye on recent national and international updates, so that the best possible treatment can be provided to AR patients.
References

1. Varshney, J., & Varshney, H. (2015). Allergic rhinitis: an overview. Indian Journal of Otolaryngology and Head & Neck Surgery, 67(2), 143-149.
2. Jaggi V, Dalal A, Ramesh BR, Tikkiwal S,Chaudhry A, Kothari N, et al. Coexistence of allergic rhinitis and asthma in Indian patients: The CARAS survey. Lung India 2019;36:411-6
3. Singh S, Sharma BB, Salvi S, et al. Allergic rhinitis, rhinoconjunctivitis, and eczema: prevalence and associated factors in children. Clin Respir J 2018;12: 547–56.
4. Hossenbaccus et al Allergy Asthma Clin Immunol (2020) 16:39 https://doi.org/10.1186/s13223-020-00436-y
5. Klimek, L., Bachert, C., Pfaar, O., Becker, S., Bieber, T., Brehler, R., ... & Bousquet, J. (2019). ARIA guideline 2019: treatment of allergic rhinitis in the German health system. Allergo Journal International, 28(7), 255-276
6. Sur, D. K., & Scandale, S. (2010). Treatment of allergic rhinitis. American Family Physician, 81(12), 1440-144
7. Dykewicz, M. S., Wallace, D. V., Baroody, F., Bernstein, J., Craig, T., Finegold, I., ... & Rank, M. A. (2017). Treatment of seasonal allergic rhinitis: an evidence-based focused 2017 guideline update. Annals of Allergy, Asthma & Immunology, 119(6), 489-511.
8. Paramesh H et al., Allergic Rhinitis. Standard Treatment Guidelines 2022. Available at: https://iapindia.org/pdf/Ch-014-Allergic-Rhinitis.pdf Dr Kamal Kant Kohli-MBBS, DTCD- a chest specialist with more than 30 years of practice and a flair for writing clinical articles, Dr Kamal Kant Kohli joined Medical Dialogues as a Chief Editor of Medical News. Besides writing articles, as an editor, he proofreads and verifies all the medical content published on Medical Dialogues including those coming from journals, studies,medical conferences,guidelines etc. Before Joining Medical Dialogues, he has served at important positions in the medical industry in India including as the Hony. Secretary of the Delhi Medical Association as well as the chairman of Anti-Quackery Committee in Delhi and worked with other Medical Councils in India. Email: editorial@medicaldialogues.in. Contact no. 011-43720751