Analyzing the efficacy and safety of leukotriene receptor antagonists in the management of allergic rhinitis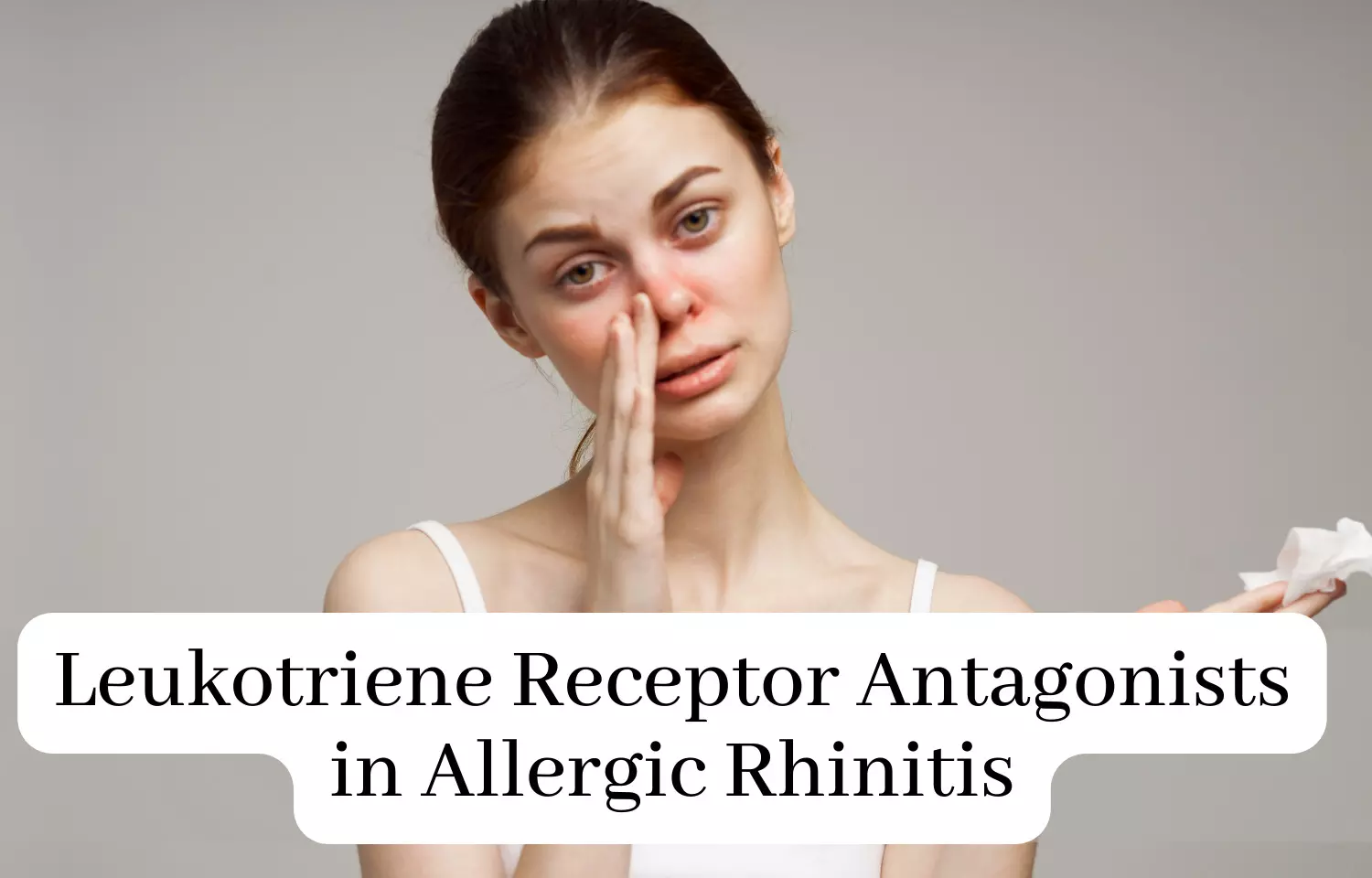 Allergic Rhinitis (AR) is an inflammatory illness of the upper respiratory tract, with sneezing, itching, nasal congestion, and rhinorrhea as the most common characteristic symptoms. (1) With statistics revealing that 10% and 50% of adults and 40% of children suffer from the disease, allergic rhinitis is now a global health concern. (2)

More alarming is the fact that if AR is not treated early enough, it can lead to severe long-term complications such as chronic sinusitis, nasal polyp aggravation, permanent hearing loss due to chronic otitis, sleep apnea and its complications, craniofacial abnormalities, decreased long-term productivity, and an increased risk of developing asthma. (3)
Standard Allergic Rhinitis therapy algorithms are typically developed based on a patient's disease severity, chronicity, and associated co-morbidities. (4) Combining allergy avoidance, medication, and tailored allergen immunotherapy remain the cornerstones of successfully treating AR. (5)
Does LTRA have an edge over other treatment protocols?
Though allergen avoidance has been given prime importance in preventing AR, the fact remains that, reducing indoor allergen levels is typically too difficult for patients to do, while preventing exposure to outdoor allergens is even more challenging. (6)
In drug therapy, oral and intranasal H1 antihistamines, intranasal corticosteroids, oral and intranasal decongestants, intranasal anticholinergics, intranasal cromolyn, and leukotriene receptor antagonists are among the recommended ones. (6)
While Second-generation H1 antihistamines are in general recommended for mild to moderate disease as first-line therapy, they remain ineffective in nasal congestion. Oral decongestants, when added, should be used with caution in patients with certain conditions, such as arrhythmia, coronary heart disease, hypertension, hyperthyroidism, glaucoma, diabetes, and urinary dysfunction. Intranasal decongestants should be used with restriction for no more than 10 days since extended use can create tachyphylaxis (rhinitis medicamentosa), or drug-induced rhinitis. (6)
Such limitations linked to the major drug groups have shifted the focus to another primary therapeutic class of medication for AR therapy –the Leukotriene-Receptor Antagonists (LTRA). The current Allergic Rhinitis and its Impact on Asthma(ARIA) guidelines support using an LTRA in seasonal AR patients. It is also advocated that the choice of LTRA be determined by patient preferences, as well as the local availability and cost of specific medications. (7)
According to the 2017 Japanese Guidelines for Allergic Rhinitis, LTRAs exhibited similar efficacy to anti-histamines for sneezing and rhinorrhea in patients with moderate to mild nasal obstruction [8]. According to the Chinese Society of Allergy's 2018 Guidelines for Diagnosis and Treatment of Allergic Rhinitis, LTRAs are better suited for night-time symptoms. (8)
How do leukotriene receptor antagonists(LTRAs) act?
In general, nasal congestion is regarded as the primary pathophysiological cause of poor sleep quality in AR patients. Nighttime symptoms are troublesome for AR patients, which frequently leads to sleep disruption and daytime weariness, lowering life quality significantly. It has further been demonstrated that certain sleep disruptions in patients with chronic AR may result in increased tiredness, exhaustion, and poor quality of life commonly experienced by such individuals. (8)
LTRAs work by inhibiting the activity of cysteinyl leukotrienes (CysLTs), a powerful inflammatory mediator linked to nasal congestion, mucus production, and inflammatory cell recruitment, all of which are linked to AR symptoms. (7) By blocking cysteinyl leukotriene-activated inflammation in the nasal lavage fluids and airways, LTRAs effectively attenuate nasal obstruction and rhinorrhea. (8)
Montelukast and Zafirlukast are two of the most commonly prescribed LTRA available worldwide. (10)
Quoting studies-
Effect on perennial and seasonal AR- Individuals with year-round AR are more prone to experience nasal congestion and concomitant sleep disturbances, which may be a contributing factor to poor quality of life in this population. The superiority of LTRAs in managing nasal congestion and nighttime symptoms explains why LTRAs are beneficial in patients with chronic AR.(8)
A study by Phipatanakul et al aimed at the analysis of simultaneous lower and upper airway responses in patients suffering from perennial AR; and showed more patients were protected from both asthma and rhinitis with LTRA compared with placebo. (6)
A major placebo-controlled experiment by Patel et al showed improvements in daytime nasal score symptoms, quality of life, and patient Global Evaluations of Allergic Rhinitis(6).
Resonating with the above findings, Perry et al and colleagues (2004) found improvement in the primary endpoint of nasal symptoms score and significant benefit with nasal congestion during both the allergen challenge and the recovery phase while investigating the effect of allergen exposure on lower and upper airways. (6)
As reported in three distinct studies, montelukast, a commonly used LTRA had a better reaction than antihistamines in controlling night-time symptoms including difficulty in falling asleep, nightly awakenings, and nasal congestion upon awaking;(6)thus highlighting that LTRAs are better in alleviating the night-time symptoms related to AR.
Effect on asthma- The fact that rhinitis and asthma frequently coexist is based on the theory that allergen stimulation of the upper airways not only causes a local inflammatory response but may also cause inflammatory processes in the lower airways. As a result, allergic rhinitis and asthma are often treated as a single inflammatory airway illness. (9) Such conditions warrant an optimal drug therapy that is effective in managing both the conditions equally.
Owing to their unique mechanism of action, LTRAs result in a combination of both bronchodilator and anti-inflammatory effects. While their optimal place in asthma management is still under review, LTRA represents an important advance in asthma pharmacotherapy. (10)
An ample wealth of studies now confirms that LTRA in patients with mild asthma is superior to placebo. (10)
A remarkable study examined the use of LTRA in patients with more severe airflow obstruction. The results indicated that compared with placebo, patients receiving zafirlukast had significantly (p < 0.05) greater improvements in spirometry, peak expiratory flow, and asthma-related complications. (10)
Safety –The LTRAs are generally well-tolerated and safe. Side effects, if noted, are usually mild, for example, gastrointestinal disturbance, rashes, and fatigue. (10)
Key –pointers-
● Allergic rhinitis if not controlled at the right time, can cause severe long-term complications.
● Even though a wide class of drugs is used for relieving AR, these drugs come with their limitations.
● Leukotriene receptor antagonists have gained popularity in recent years, by their potency in managing both day and night-time symptoms associated with AR.
● LTRAs are also effective against AR-related asthma.
To conclude- The prevalence of AR has risen steadily over the last few decades, from 10% in 1970 to 30% in 2000, with symptoms ranging from minor to debilitating. (6)
With such a striking rise, early and optimum management of allergic rhinitis poses a challenge to physicians.
With a growing body of evidence highlighting the efficacy and safety of leukotriene receptor antagonists in managing allergic rhinitis and asthma, the fullest potential of this class needs to be deciphered.
The medical fraternity looks up to continuing research on leukotriene antagonist receptors which will add new dimensions to the wide spectrum of activity exhibited by this class, in managing allergic rhinitis and asthma.
References
1. Small, P., Keith, P.K. & Kim, H. Allergic rhinitis. Allergy Asthma Clin Immunol 14, 51(2018). https://doi.org/10.1186/s13223-018-0280-7
2. Passali, D., Cingi, C., Staffa, P., Passali, F., Muluk, N. B., & Bellussi, M. L. (2018). The International Study of the Allergic Rhinitis Survey: outcomes from 4 geographical regions. Asia Pacific Allergy, 8(1), e7. https://doi.org/10.5415/apallergy.2018.8.e7
3. Settipane, Russell A. (1999). Complications of Allergic Rhinitis. Allergy and Asthma Proceedings, 20(4), 209–213. doi:10.2500/108854199778339053
4. Klimek, L., Bachert, C., Pfaar, O., Becker, S., Bieber, T., Brehler, R., ... & Bousquet, J. (2019). ARIA guideline 2019: treatment of allergic rhinitis in the German health system. Allergo Journal International, 28(7), 255-276
5. Varshney, J., & Varshney, H. (2015). Allergic rhinitis: an overview. Indian Journal of Otolaryngology and Head & Neck Surgery, 67(2), 143-149.
6. Lagos, J. A., & Marshall, G. D. (2007). Montelukast in the management of allergic rhinitis. Therapeutics and Clinical Risk Management, 3(2), 327.
7. Hossenbaccus, L., Linton, S., Garvey, S., & Ellis, A. K. (2020). Towards definitive management of allergic rhinitis: best use of new and established therapies. Allergy, Asthma & Clinical Immunology, 16(1), 1-17.
8. Feng, Y., Meng, YP., Dong, YY. et al. Management of allergic rhinitis with leukotriene receptor antagonists versus selective H1-antihistamines: a meta-analysis of current evidence. Allergy Asthma Clin Immunol 17, 62 (2021). https://doi.org/10.1186/s13223-021-00564-z
9. Small, P., Keith, P.K. & Kim, H. Allergic rhinitis. Allergy Asthma Clin Immunol 14, 51 (2018). https://doi.org/10.1186/s13223-018-0280-7
10. http://dx.doi.org/10.1136/pgmj.76.902.767