Decoding the Management of Otitis Media and Role of Amoxicillin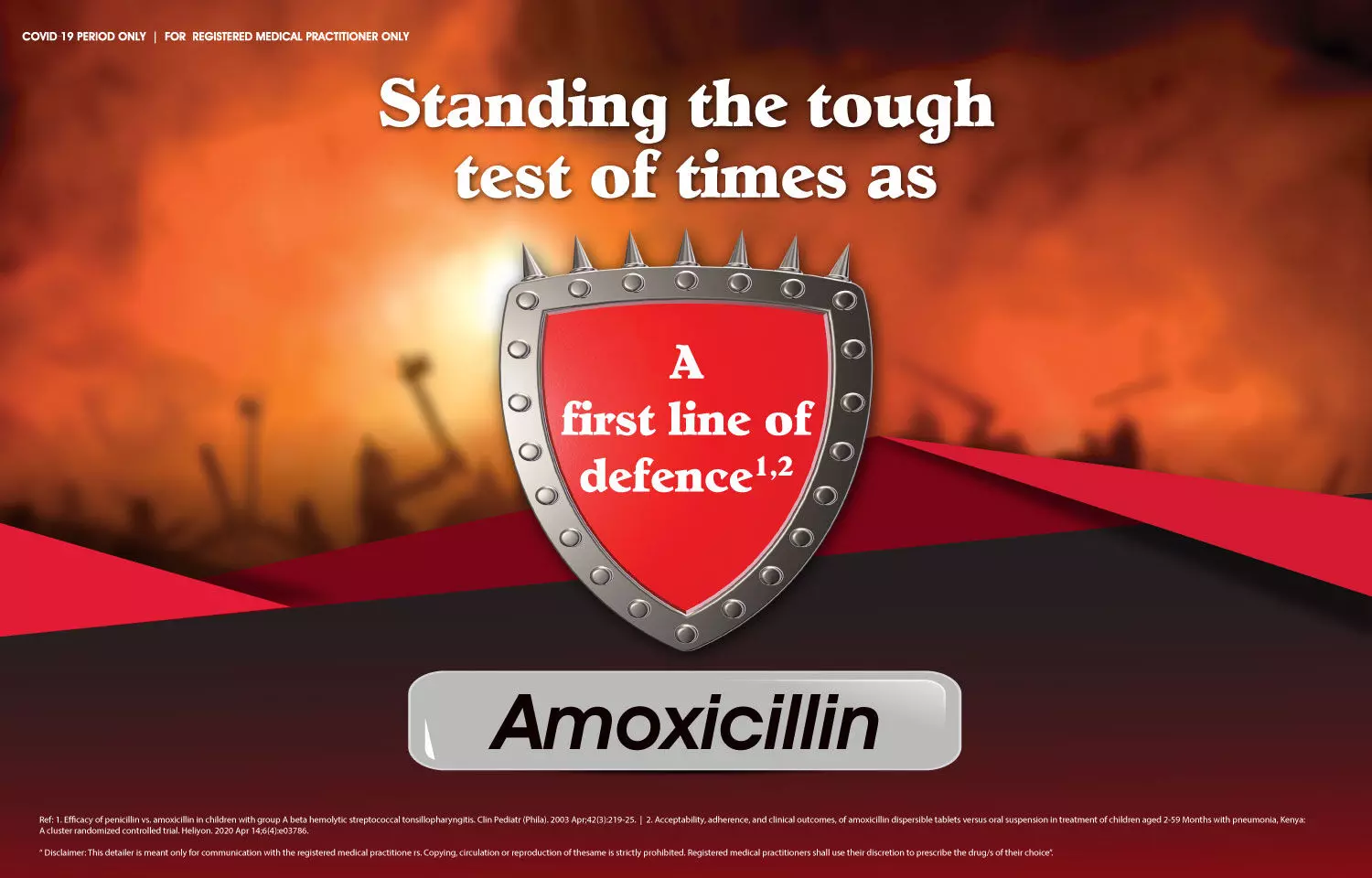 Acute otitis media (AOM) - an infection of the middle ear, is the second most common pediatric diagnosis in the primary and emergency care department following upper respiratory infections. Although acute otitis media can occur at any age, it is more frequently encountered between the age group of 6 to 24 months. Reportedly 80% of all children experience otitis media once during their lifetime, with up to 90% will have otitis media with an effusion before school age. (1) Acute otitis media also becomes one of the leading causes of antibiotic prescriptions (2). The clinical landscape of otitis media in Indian practice settings and scientific consideration for the role of amoxicillin is reviewed.
Acute Otitis Media: Clinical Landscape in India
Preventing Ear Infections among Indian Children – Emphasis on Regular Screening: S K Chadha published a study wherein 15718 Indian primary school children were screened for ear disorders. Impacted cerumen was prevalent in 7.93 % of school children, 4.79 % suffered from chronic otitis media, and 3% suffered from otitis media with effusion. The results of this study brought out the prominent pervasiveness of preventable ear diseases and that they posed a significant health problem among Indian school-going children. The study concluded the importance of regular screening of children during this stage to ensure that their school lives are unaffected by hearing impairments in the longer run. (3)
Indian children with Acute Otitis Media (AOM) - Nasopharyngeal Colonization of Otopathogens & Streptococcus pneumoniae is the Dominant Culprit: M. Napolean et al, published a study in 2021; which was undertaken to identify the role of various risk factors among Indian children with AOM, especially the association of nasopharyngeal otopathogens. Ninety-five children were included in this prospective case-control study including age and gender-matched controls. It was noteworthy that the study highlighted a significant association between nasopharyngeal colonization of otopathogens and AOM as a risk factor, which is enhanced by co-colonization. Furthermore,Streptococcus pneumonia was the main otopathogen in this population - serotypes 11A and 19F being the most common. Otalgia was associated in 92% of these children indicating the clinical value of these findings. (4) Such findings may have implications for the selection of appropriate antibiotics. Amoxicillin remains the oral beta-lactam with the greatest activity against Streptococcus pneumoniae, thus its consideration may be prudent.(5)
Indian ENT Surgeons' Experience: Amoxicillin containing Therapies Remain Preferred Antibiotic Choice
An observational study published by D'silva L et al aimed to study the clinical spectrum of AOM across specialty care settings in India. The survey reported the incidence of AOM was 43% in ENT outpatient care clinics, which was much higher than anticipated, with peaks reported in July & December. Analgesics, decongestants, and antibiotics were the mainstay of treatment. Amoxicillin-containing antibiotic treatment regimens were among the preferred choice of antibiotics. (6)
Amoxicillin Treatment Leads to Early Resolution of Acute Otitis Media(AOM) Symptoms
Damoiseaux et al published a randomized, double-blinded placebo-controlled trial with 6 weeks of follow-up in primary care settings, to investigate the efficacy of amoxicillin in relieving the clinical symptoms of acute otitis media. Two hundred and forty children, aged between 6 & 24 months, diagnosed with AOM and >1 symptom of acute infection (fever, recent earache, general malaise, or recent irritability) were included. Patients were allocated to amoxicillin suspension, 40 mg/kg of body weight per day (n = 117), or placebo (n = 123) for 10 days. The results of the study demonstrated, that on day 4, fewer patients who received amoxicillin had persistent symptoms than those who received placebo (p = 0.03) Amoxicillin group patients had less time to cessation of fever (median time to cessation 2 days (p = 0.004) Amoxicillin group patients took fewer analgesics (mean over 10 d, 2.3 v 4.1 doses; p = 0.004). The study concluded that among children <2 years of age with acute otitis media, amoxicillin leads to the resolution of more symptoms within 4 days of treatment. (7)
Amoxicillin – Preferred Agent for Use in Acute Otitis Media(AOM): Testimony of Global & Indian Medical Authorities
The World Health Organisation (WHO) recommends the use of antibiotics in children with otitis media when a patient presents with unilateral/bilateral AOM, severe symptoms, or tympanic membrane perforation or otorrhoea across all ages groups.
Fifteen international guidelines including the World Health Organisation recommend amoxicillin as the first-line antibiotic in the management of acute otitis media when they are indicated (2). A recent scientific paper published by the National Association of Paediatric Nurse Practitioners; USA cites the recommendation for amoxicillin as first-line therapy in the management of acute otitis media. (5)
The Indian Council of Medical Research (ICMR) has developed evidence-based treatment guidelines for the management of common infection syndromes. The guidelines have cited that amoxicillin is recommended as one of the preferred first-line agents for the treatment of acute otitis media and mild bacterial sinusitis. (8)
Ministry of Health & Family Welfare- Government of India Guidelines: The management of common respiratory infections in children in India guidelines released by the Ministry of Health & Family Welfare Government of India cites, that for the treatment of Acute Otitis Media(AOM) in children, the use of oral amoxicillin could be considered for 5 days. The dosage form of amoxicillin for the treatment of pediatric infections can be in the form of tablets or syrup. (9)
Concluding Message
Otitis media is frequently encountered in primary care, pediatric, and ENT surgeons' practice in India (6). Otalgia-associated otitis media among Indian children is predominantly associated with nasopharyngeal colonization, with S. pneumoniae emerging as the main culprit otopathogen in this population (4). Amoxicillin remains the oral beta-lactam with the greatest activity against S. pneumonia (5). Amoxicillin is well known for its clinical utility, broad antibacterial spectrum activity also good absorption ability from gastrointestinal tract (GIT), and its high oral bioavailability (up to 90%) with the rapid achievement of peak plasma levels (1 to 2 hrs) (10). Amoxicillin may be considered in the management of otitis media in the light of supporting evidence and testimonies from various global medical guidelines and authorities. (2)
References:
1. Danishyar A, Ashurst JV. Acute Otitis Media. 2022 Jan 21. In: StatPearls [Internet]. Treasure Island (FL): StatPearls Publishing; 2022 Jan–. PMID: 29262176.
2. Spoial˘a, E.L.; Stanciu, G.D.; Bild, V.; Ababei, D.C.; Gavrilovici, C. From Evidence to Clinical Guidelines in Antibiotic Treatment in Acute Otitis Media in Children. Antibiotics 2021, 10, 52. https://doi.org/10.3390/antibiotics10010052
3. S K CHADHA, A SAYAL, V MALHOTRA, A K AGARWAL, Prevalence of preventable ear disorders in over 15 000 school children in northern India, The Journal of Laryngology & Otology (2013), 127, 28–32.
4. Napolean M, Rosemol V, John M, Varghese AM, Periyasamy J, Balaji V, Naina P. Nasopharyngeal colonization of otopathogens in South Indian children with acute otitis media - A case control pilot study. J Otol. 2021 Oct;16(4):220-224. doi: 10.1016/j.joto.2021.02.004. Epub 2021 Mar 4. PMID: 34548867; PMCID: PMC8438633.
5. Molloy L, Barron S, Khan N, Abrass E, Ang J, Abdel-Haq N. Oral β-Lactam Antibiotics for Pediatric Otitis Media, Rhinosinusitis, and Pneumonia. J Pediatr Health Care. 2020 May-Jun;34(3):291-300. doi: 10.1016/j.pedhc.2019.11.001. PMID: 32334748.
6. Liesel D'silva, Raunak Parikh, Arun Nanivadekar, Sadhna Joglekar, A Questionnaire-Based Survey of Indian ENT Surgeons to Estimate Clinic Prevalence of Acute Otitis Media, Diagnostic Practices, and Management Strategies , Indian J Otolaryngol Head Neck Surg December 2013 65(Suppl 3):S575–S581; DOI 10.1007/s12070-012-0545-2
7. Damoiseaux RA, van Balen FA, Hoes AW, et al. Primary care-based randomised, double-blind trial of amoxicillin versus placebo for acute otitis media in children aged under 2 years.BMJ 2000 Feb 5;320:350–4.
8. Treatment Guidelines for Antimicrobial Use in Common Syndromes, Indian Council of Medical Research 2019, 2nd edition, Pages 1-206
9. Ministry of Health and Family Welfare, Government of India. Management of Management of common Respiratory Infections in Children in India. July 2016: Pg 1-45
10. Simar Preet Kaur et al, Amoxicillin: A Broad Spectrum Antibiotic, International Journal of Pharmacy and Pharmaceutical Sciences 2011;3(3):30-37 Dr Kamal Kant Kohli-MBBS, DTCD- a chest specialist with more than 30 years of practice and a flair for writing clinical articles, Dr Kamal Kant Kohli joined Medical Dialogues as an Editor-in-Chief for the Speciality Medical Dialogues section. Besides writing articles, as an editor, he proofreads and verifies all the medical content published on Medical Dialogues including those coming from journals, studies,medical conferences,guidelines etc. Before Joining Medical Dialogues, he has served at important positions in the medical industry in India including as the Hony. Secretary of the Delhi Medical Association as well as the chairman of Anti-Quackery Committee in Delhi and worked with other Medical Councils in India. Email: editorial@medicaldialogues.in. Contact no. 011-43720751