United Airway Disease and Clinical Applicability of Montelukast Fexofenadine Combination: Review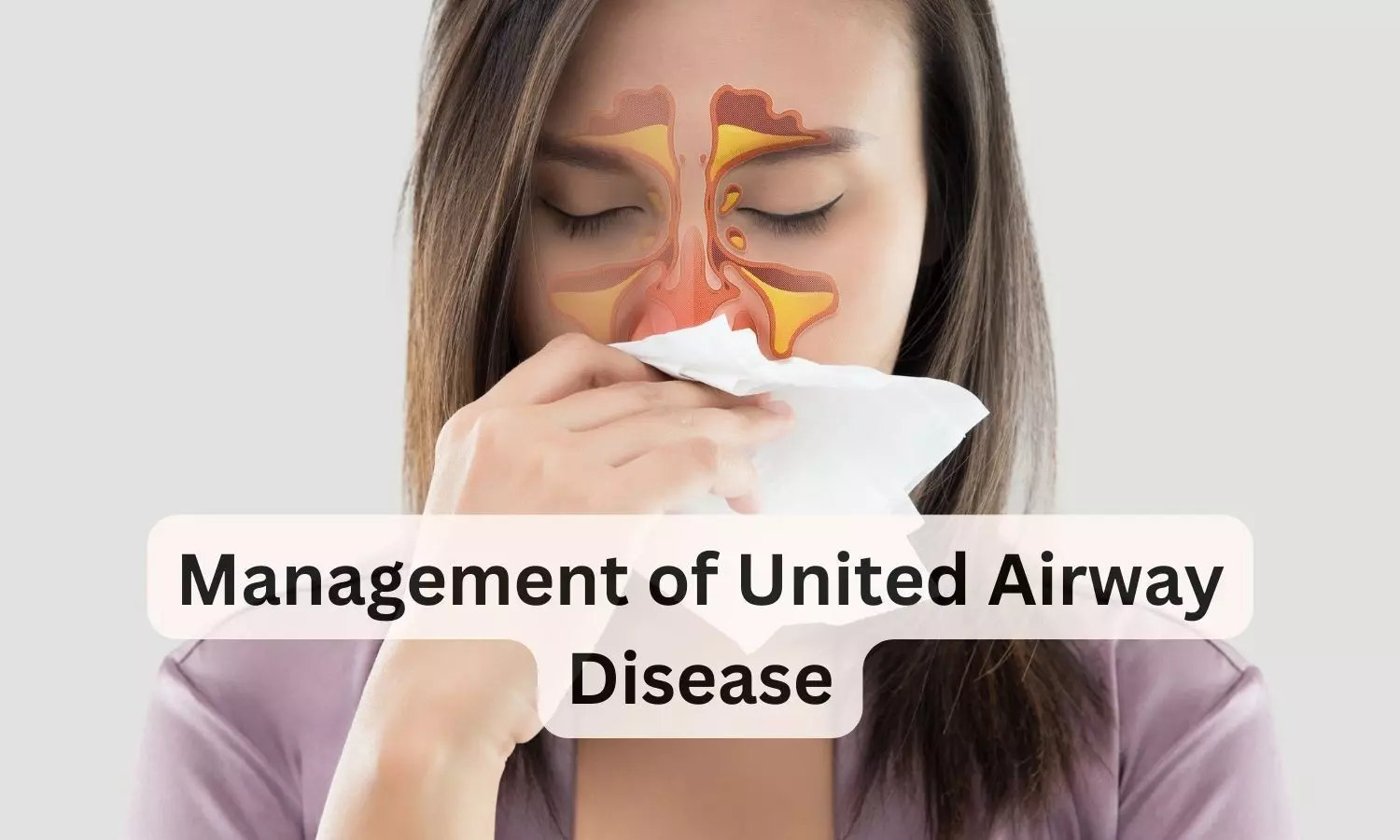 Recent epidemiological, pathophysiological, and clinical scientific evidence has identified a relationship between upper and lower respiratory airways, refining and upgrading the concept of respiratory allergies around the world. Accumulating research now affirms a significant interaction between the upper and lower respiratory tract diseases- allergic rhinitis and asthma, in particular. (1)
United Airway Disease in India: Confirmations from CARAS Survey
In India, studies have reported varying results for the coexistence of allergic rhinitis (AR) and asthma, with frequencies ranging drastically from 15% to >80%. Along similar lines, a survey across 10 Indian states, the CARAS survey (Coexistence Of Allergic Rhinitis And Asthma In Indian Patients) reported a striking prevalence of 65.24% of asthmatics suffering from coexisting AR, with the highest prevalence (80%) noted in the southern regions of India. Sneezing (71.78%), followed by a watery, runny nose (63.59%), was the most common AR symptom. The team further elaborated that the prevalence of AR increased with worsening asthma severity, reinforcing the need for early diagnosis and guideline-based management of AR in patients with asthma. Research also shows that these patients are often compelled to undergo several visits to chest physicians, allergy experts, otolaryngologists, general physicians, and pediatrics, leading to delays in getting timely therapy. (2)
This article aims to shed light on the emerging concept of United Airway Disease while analyzing the clinical applicability of combined therapy, specifically the Montelukast-Fexofenadine combination, in managing the same.
United Airway Disease (UAD): Deciphering the link between AR and Asthma- The concept of the upper and lower respiratory passages being a continuum and forming a single unified airway has been repeatedly highlighted over the last few years (1)
Shared Anatomy-
Although the nose and lungs are treated separately in everyday clinical practice, the upper and lower respiratory tracts have similar histological characteristics, including the basement membrane, lamina propria, ciliary epithelium, glands, and goblet cells. (1)
Patients with AR have partial or total loss of nasal function due to mucosal congestion, thus inhaling cold or dry air, which can exacerbate bronchoconstriction and asthma. (1) This impaired "air conditioning" ultimately exposes the lower airway to the entrance of allergens and pathogens, increasing the risk of asthma exacerbations. (3)
Shared pathophysiology-
AR and asthma are both immunoglobulin E-mediated allergies induced by comparable allergens and have similar inflammatory and pathophysiological pathways. As a result, AR is considered a significant common risk factor for both - occurrence and severity of asthma. (2)
The most plausible mechanism is that localized inflammatory alterations in the upper and lower airways trigger a systemic response and result in the release of progenitor cells, which are subsequently drawn to tissue locations. Inflammatory secretions can also spread from the upper to the lower airways via postnasal drip and systemic circulation. (1)
UAD is triggered by a T helper type 2 (Th2) immune response of the airway, leading to an extended inflammatory process that begins in the nasal mucosa and ends in bronchioles and alveoli (3), particularly in symptomatic asthmatics (a neural reflex mechanism).
Such shared phenomenology calls for managing AR and asthma as one single disease entity and emphasizes the need to target pharmacotherapy accordingly.
Combination therapy in UAD: Analyzing the benefits of integrating antihistamines and LTRAs-
Histamines contribute to the pathophysiology of allergic rhinitis and are responsible for the symptoms of rhinorrhea, itchy nasal passages, and sneezing. On the other hand, leukotrienes predominantly cause an increase in nasal airway resistance and vascular permeability. Therefore, limiting one mediator has fewer benefits than blocking both mediators with antihistamines and leukotriene receptor antagonists (LTRAs). Additionally, combining an LTRA and an antihistamine into a single tablet is a potential treatment because compliance may be essential for optimizing outcomes in allergic rhinitis. (4)
Due to their superior efficacy and decreased incidence of adverse effects compared to their first-generation predecessors, second-generation antihistamines have experienced a massive increase in popularity. A second-generation H1 receptor antagonist known as Fexofenadine is selective and nonsedating and has drawn attention because of its additional impact on inflammatory mediators. (5)
Among LTRAs, Montelukast is a highly selective leukotriene D4 type I receptor antagonist with potent and well-established anti-inflammatory and bronchodilator properties (5)
Study testimonials: Combination of Monteleukast-Fexafenatidine in managing AR
Because the current medical practice has shifted gears from an empirical selection to an evidence-based algorithmic approach, analyzing the relevant study results is of prime importance. Here we summarize the noteworthy studies that indicate the clinical benefits of Monteleukast-Fexafenatidine combination in AR pharmacotherapy.
Combination therapy better than mono-therapy-
A large post-marketing surveillance study (6) in India found that montelukast 10 mg + fexofenadine 120 mg fixed dose combination (FDC) given once daily for 14 days to 809 individuals was substantially (P<0.0001) beneficial in lowering all symptoms of allergic rhinitis.
Another study (7) looked at the effectiveness of simultaneous Fexofenadine and montelukast treatment in patients with seasonal allergic rhinitis over three weeks. The results revealed that individuals who received Fexofenadine plus montelukast had considerably better nasal congestion management than those who had received only Fexofenadine.
Noteworthy research (4) sought to compare the bioequivalence of a fixed-dose combination of fexofenadine 120 mg and montelukast 10 mg (bilayered FDC of fexofenadine+montelukast) with separate formulations of Fexofenadine and montelukast taken simultaneously at the same dosage levels. The study team determined that the FDC of Fexofenadine 120 mg + montelukast 10 mg was bioequivalent to Fexofenadine 120 mg and montelukast 10 mg administered concurrently. The researchers emphasized that the unique bilayered FDC of fexofenadine+montelukast allows for easier administration as a single tablet, which increases adherence to the prescribed medication.
Montelukast-fexofenadine scores better than other AH-LTRA combinations-
A study (5) compared the efficacy, safety, and cost-effectiveness of montelukast-levocetirizine vs. montelukast-fexofenadine in AR patients. Using the total nasal symptom score (TNSS) as the vital outcome metric, researchers discovered that the mean reduction in TNSS, 9.46, was significant (P 0.05) in the montelukast-fexofenadine group, confirming that the decrease in TNSS was more potent in the montelukast-fexofenadine group.
Okubo and colleagues found that Bilastine reduces eye irritation, but not lacrimation, in ocular symptoms in allergic illnesses. Fexofenadine, on the contrary, considerably decreased both eye irritation and lacrimation over the therapy period. (8)
Drug safety profile:
The fexofenadine-montelukast combination has a broad-spectrum safety profile and is licensed for use in adult patients with allergic rhinitis.
Research (5) has further highlighted that sedation is less likely with the fexofenadine-containing combination (9.6% vs. 23.2% in the levocetirizine-containing formulations). Fexofenadine has been safely recommended for use in individuals involved in professional activities, such as pilots, without the concern of sedation. (9)
Practice pointers-

United Airway Disease, the concept of the upper and lower respiratory passages being a continuum and forming a single unified airway, has been gaining acceptance worldwide in the research and patient care community.
Resonating with the UAD concept, research confirms that patients with allergic rhinitis are at a higher risk of acquiring asthma. This clinical pattern is noted in Indian observational studies as well. Symptoms of allergic rhinitis and concomitant asthma substantially impact the quality of life, including social life, sleep, school, and job.
Oral H1-antihistaminics (AH) and leukotriene receptor antagonists are two key medication classes used in AR treatment (LTRAs).
Combining second-generation antihistamines like Montelukast with an LTRA has additive and complementing benefits, successfully alleviating AR symptoms.
Patients suffering from allergic rhinitis have more convenient options now with the availability of bilayered fixed-dose combination tablets of Fexofenadine -Montelukast. Such unique formulations may significantly be useful in improving treatment compliance and patient adherence.
References
1. Licari A, Castagnoli R, Denicolò CF, Rossini L, Marseglia A and Marseglia GL (2017) The Nose and the Lung: United Airway Disease? Front. Pediatr. 5:44. doi: 10.3389/fped.2017.00044
2. Jaggi V, Dalal A, Ramesh BR, Tikkiwal S, Chaudhry A, Kothari N, et al. Coexistence of allergic rhinitis and asthma in Indian patients: The CARAS survey. Lung India 2019;36:411-6.
3. Giavina-Bianchi, P., Aun, M. V., Takejima, P., Kalil, J., & Agondi, R. C. (2016). United airway disease: current perspectives. Journal of asthma and allergy, 9, 93.
4. Walekar, A., Chodankar, D., Naqvi, M., & Trivedi, C. (2017). Assessment of bioequivalence of fexofenadine and montelukast fixed-dose combination tablet versus separate formulations of the individual components at the same dose levels. Indian Journal of Pharmaceutical Sciences, 78(5), 651-656.
5. Mahatme MS, Dakhale GN, Tadke K, Hiware SK, Dudhgaonkar SD, Wankhede S. Comparison of efficacy, safety, and cost-effectiveness of montelukast-levocetirizine and montelukast-fexofenadine in patients of allergic rhinitis: A randomized, double-blind clinical trial. Indian J Pharmacol. 2016 Nov-Dec;48(6):649-653. doi: 10.4103/0253-7613.194854. PMID: 28066101; PMCID: PMC5155464
6. Naik M, Khandeparkar P, Nayak A, Mukaddam Q. Efficacy and safety of montelukast plus fexofenadine fixed-dose combination in allergic rhinitis: Results of a post-marketing study in India. Indian Medical Gazette 2013:314-8.
7. Cingi C, Gunhan K, Gage-White L, Unlu H. Efficacy of leukotriene antagonists as concomitant therapy in allergic rhinitis. Laryngoscope 2010;120:1718-23
8. Kimihiro Okubo, Minoru Gotoh, Mikiya Asako, Yasuyuki Nomura, MichinoriTogawa, Akihiro Saito, Takayuki Honda, Yoshihiro Ohashi, Efficacy and safety of bilastine in Japanese patients with perennial allergic rhinitis: A multicenter, randomized, double-blind, placebo-controlled, parallel-group phase III study, Allergology International, Volume 66, Issue 1,2017, Pages 97-1058.
9. Mohler SR, Nicholson A, Harvey P, Miura Y, Meeves SG. The use of antihistamines in safety-critical jobs: a meeting report. Curr Med Res Opin.2002;18(6):332-7. Dr Kamal Kant Kohli-MBBS, DTCD- a chest specialist with more than 30 years of practice and a flair for writing clinical articles, Dr Kamal Kant Kohli joined Medical Dialogues as a Chief Editor of Medical News. Besides writing articles, as an editor, he proofreads and verifies all the medical content published on Medical Dialogues including those coming from journals, studies,medical conferences,guidelines etc. Before Joining Medical Dialogues, he has served at important positions in the medical industry in India including as the Hony. Secretary of the Delhi Medical Association as well as the chairman of Anti-Quackery Committee in Delhi and worked with other Medical Councils in India. Email: editorial@medicaldialogues.in. Contact no. 011-43720751