ESI Hospital inaugurated; Minister seeks Central support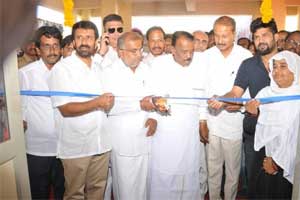 Mysuru: Karnataka Minister for Labour Venkataramanappa inaugurated the newly-constructed ESI Hospital here on Wednesday and sought more funds from the Union Government for development.
Speaking on the occasion, he said that the government projects take their own time to see light. The project that should have been completed years back has finally been done.
There have been a lot of changes in the Labour Department. The government has introduced several programmes for development of the Department including Rs 50 000 for the Labourer's children marriage besides constructing Houses for the Labours.
Admitting that the ESI Hospitals lack staff and his department is trying to solve all the problems, he said that the State government has already written the letter to the concerned in this connection.
Taking strong exception to Lok Sabha member Pratap Simha's statement that the State government has not done anything for the Labour class, he said Mr Simha should not limit himself to speeches. He should work the way he speaks. "Put some pressure on the central government to get the works done, he taunted the MP.
The 100-bed hospital has been constructed at a cost of Rs 33.10 Crore. It needs equipment worth Rs 13 crore and staff. The State Labour Minister has to cooperate with us to solve these issues, said Pratap Simha.
The newly-constructed ESI Hospital is open for patients. It will benefit 1.27 lakh labours", said MP Dhruvanarayan.