Farewell: Padma Shri awardee doctor gives up practice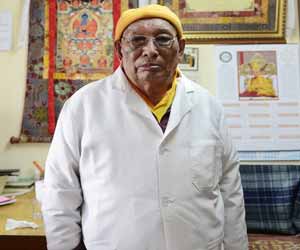 Dharamshala: In a major setback to the region and cancer patients, the Tibetian Doctor Yeshi Dhonden, a Padma Shri awardee and the personal healer to Dalai Lama will no longer be treating patients. Citing his old age health reasons, Dr Yeshi has given up his practice and has decided to shut down his medical centre at Mcleodganj.
Notice in this regard has been displayed at his clinic which apparently states that the doctor will no longer see any patients at his clinic due to his old age health issues. He is reported to have stopped practising from 1 April. The clinic is now open only to existing patients for refilling their prescriptions.
Born in 1927, the 92 years old doctor Dhonden is known as the foremost expert in a Tibetan medicine, known as Sowa-Rigpa,  that draws on centuries-old techniques such as blood-letting, cupping, and moxibustion — burning herbs on energy points of the body — to try to heal ailments. The practice draws on aspects of traditional Chinese medicine and India's Ayurvedic system as well as its own unique theories and treatments. It also features spiritual practices including meditation and Buddhist prayer. His Tibetian medicine treatment his attracted devotees from all over the globe, hoping for help with conditions from back pain to cancer and degenerative diseases. Dhonden is also the founder of Men-Tsee-Khang or the Tibetan Medical College.
Also Read: Celebrating Medicine In India: Meet the Six Padma Shri Awardees of 2018
Doctor Yeshi's decision comes as a sheer disappointment to numerous patients across the globe who visited the region for treatment and in turn contributed to the economy of the region.
The inordinate number of patients visiting the region is evident to the influence the doctor has in the region and the patients who use to join queues right from 3.00 am in the morning to seek tokens. Patients reportedly got an appointment within a gap of more than a couple of months for treatment.
Majority of cancer patients were spotted in flights operating between Delhi to Dharamshala.
Inquires at the medical centre revealed that various important personalities also use to get an appointment of this Tibetan doctor in routine. The medical staff at the centre disclosed that due to the movement of personages a special quota was there for them.
"Doctor used to meet about 45 patients daily, earlier it was more. We use to reserve three to four tokens due to meet the demand from higher-ups" a staff member at the centre requesting anonymity told the TOI.
Further commenting about the doctor, Lobsang Wangyal, a Tibetan said that Dr Yeshi was the backbone of the region and he will remember for his contribution to the area.