First ever international conference cum exhibition on AYUSH and wellness starts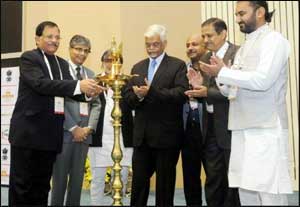 New Delhi: After signing MoUs with several foreign governments and international universities for cooperation in the area of traditional medicine knowledge, India is now keen to build institutional mechanisms and health systems with evidence-based approaches, shared practical experiences and best practices of traditional medical systems, Minister of State for AYUSH Shripad Yesso Naik said.
He was speaking after Commerce and Industry Minister Suresh Prabhu inaugurated 'Arogya 2017'the first-ever international conference on AYUSH and Wellness here, the first of its kind international conference of its kind.
Emphasising that the AYUSH ministry was trying to achieve comprehensive integration in the health services, Mr Naik said ''through the ministry, we are not only promoting developmental activities of traditional medicine at the national level but also looking at more international cooperation and collaboration opportunities at bilateral, multilateral, regional and global levels.'' He said the declaration of June 21 as International Day of Yoga by the United Nations had generated global interest in yoga as well as a lot of cooperation opportunities for exchange of yoga information, expertise and qualified, certified and accredited yoga trainers.
Stating that India was sharing its traditional medicine knowledge with humanity across the world through 'Arogya 2017', Mr Prabhu said however, India was not the only country with such knowledge and hoped that through this conference to learn from participants from other countries of the world, adding that the Government of India would be very happy to work with all the countries in this sector.
Nearly 1,500 delegates from India and 60 countries are participating in 'Arogya 2017'