Fogging ineffective in dengue control: CSE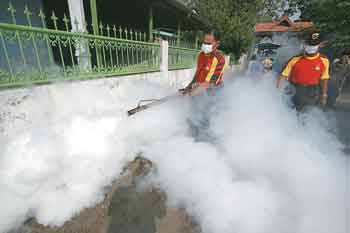 New Delhi: With over 12,500 reported cases of dengue in the national capital, the Centre for Science and Environment (CSE) on Tuesday claimed that the fogging drive being carried out was "ineffective" against mosquitoes which are responsible for menace.
The drive however had a harmful health impact, especially on children, elderly and those with respiratory ailments, it said.
After a large number of dengue cases recorded in August, the authorities had stepped up fogging as one of the solutions to prevent vector-borne disease from spreading, the CSE said in a statement.
"We looked into the issue when community members approached us and shared their observations and experiences. We found that fogging is ineffective in containing dengue and has a harmful effect on the health of people," said its deputy director general Chandra Bhushan.
Fogging knocks down adult mosquito only, and not the larvae that are the source of breeding, he said, adding that larvicide measures on the other hand were recognised as an important intervention to prevent large-scale spread of dengue.
"Unless repeated frequently, fogging cannot control the next batch of adults out of the larvae. This is why, source control through larvicide measures is considered effective," the CSE said.
It estimated that the municipal corporations of south and east Delhi had already spent about Rs.70 lakh on diesel for fogging till October 10.
The CSE said medical experts suggest that direct inhalation of diesel fumes, combined with insecticides, can exacerbate asthma or bronchitis among those with respiratory ailments, and said that instead of fogging, the focus should be on long-term preventive measures and creating awareness among people.