FORDA rejects the recommendations of 7th Pay Commission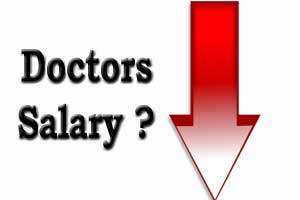 Federation of Resident Doctors association organised a press conference today strongly opposing the recommendations of the 7th pay commission on reducing the percentage of NPA from 25% to 20% and removing it from the calculations of HRA for doctors. With the implications of the 7th Pay commission recommendation sealing the fate of doctors for the next 10 years, doctors are fearing a comparative fall in remuneration in the face of rising prices
Speaking on behalf of the resident doctors working across the country, Dr Pankaj Solanki, President FORDA said, " This will be a great blow on the retention of good doctors in government sector. Already, there is a big exodus of doctors with skill,experience and research acumen from the government sector. The Present Pay recommendation if accepted, will become a great hindrance to persons with skill to join and continue in government."
He also pointed out growing discrepancy between the remuneration of the doctors working in the government sector and doctors working in the private sector. For example, the pay of an assistant professor at Government Medical College in Delhi starts with Rs 85,000 p.m, while the pay of a junior consultant ( equivalent in degree and position ) in a private hospital in Delhi is Rs 2- 2.5 Lakhs pm . With this pay commission, there will be a higher discrepancy between government and private doctors.
Dr Ravinder Chauhan, General Secretary, FORDA mentioned, " This pay commission has been particularly discriminating to doctors. FORDA strongly rejects this pay commission report on behalf of the medical profession, as it is strongly discriminatory in its recommendations and has got no visionary approach and shall cause strong deficit in quality of services and cause administrative difficulties."
Read Also