Fortis Noida performs successful Hypertrophic Obstructive Cardio surgery Myopathy , a genetic heart disease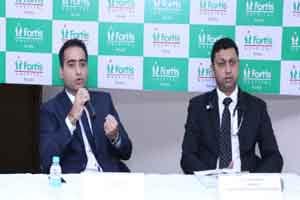 Noida: Fortis Hospital, Noida conducted a successful surgery on cardiomyopathy, a rare genetic heart condition on a 25-year old patient from NOIDA. The surgical team was led by Dr. Vaibhav Mishra, Consultant, Cardiac Thoracic & Vascular Surgery, Fortis Hospital, Noida.

Mr. Suresh Prajapathi was presented to Dr. Vaibhav Mishra with symptoms of consistent breathlessness, concurrently with his heart racing at slightest exertion. Routine day to day physical activities became a challenge for him. It was abnormal to be experiencing these symptoms at the age of 25 years. Diagnosis revealed that he was suffering from a genetically acquired condition where the heart acts like a ball of muscle, obstructing blood flow; medically known as HOCM or hypertrophic obstructive cardiomyopathy, a condition that makes the affected vulnerable to sudden cardiac death. To make things worse the patient had an additional problem with his heart valve which is also genetically accrued. About 20% of the patients with HOCM have myxomatous degeneration of mitral valve.



Prajapathi underwent a successful transmitral Septal Myectomy and replacement of his Mitral valve. These are procedures that help to relieve left ventricular outflow tract obstruction among the HOCM candidates and the mitral valve was replaced with an artificial heart valve.



Dr. Vaibhav Mishra, Consultant, Cardiac Thoracic & Vascular Surgery, Fortis Hospital, Noida said, "Hypertrophic Obstructive Cardiomyopathy is a condition where a certain portion of the muscle of the heart is thickened resulting in obstruction to blood flow. In this case the additional thing was to fix the linkage valve too. It constitutes for a rare genetic condition that runs in families and has been responsible for sudden cardiac death in number of famous young athletes around the World. This condition is associated with 50% mortality before the age of 40 years. The Surgical treatment of this condition is rare and fraught with many challenges. Fortunately, we were able to make a significant difference in the life of this patient."



Mr. Gagan Sehgal, Zonal Director, Fortis Hospital Noida said, "The youth is increasingly affected by various conditions of heart diseases as has been studied in the current generation. There are various factors contributing to these alarming developments. Our doctors have again met the challenges headlong and achieved their only goal that of saving lives. We are proud to say that our team of doctors has set yet another feather in their caps by treating this patient."



Prajapathi had gratitude in his eyes as he thanked Dr. Vaibhav Mishra and his team, "I cannot express in words what the doctor and his team have gifted me. My mother had nothing but tears when she saw me out of this medical condition and hopes that more and more youth suffering of this disease get timely medical intervention to be able to lead normal lives thereafter."



Statistics reveal that the HOCM (Hypertrophic obstructive cardiomyopathy) is prevalent in about 2 of 1000 young adults. It is also revealed that it affects 1 out 500 people in a global study. This is a relatively common heart condition that causes the heart muscles to thicken resulting in obstruction of the blood flow. The causes of this condition is mutation in one of the genes located in chromosome 14. However, what is well identified is that this condition leads to breathlessness, raised blood pressure in the ventricles and the blood vessels of the lungs, and serious arrhythmias or uneven heart contractions. Shockingly, 4% of Indians carry the HCM gene and tens of millions will be suffering from the gene mutation leading to this medical condition early in their lives in the coming generations.