Forum to be developed soon for stakeholders to make health policy interventions: Nadda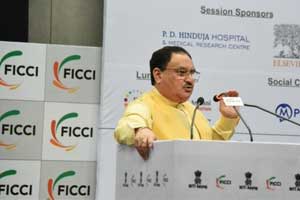 New Delhi: There is no formal structure in the health sector as of now where interactions can be facilitated on policy matters, Union Health Minister J P Nadda today said, and asserted that a forum will be developed soon where stakeholders can join hands with the government for policy interventions.
He termed the government's Ayushman Bharat scheme, which aims to provide a cover of Rs 5 lakh per year to 10.74 crore poor and vulnerable families, a "bold decision".
"As far as health sector is concerned, we are of the opinion that there is no formal structure where we can have an interaction on policy matters. I take the responsibility and declare that very soon, I will come out with a forum where multiple stakeholders can join hands with the government on policy interventions," he told a delegation during a FICCI event.
On the Ayushman Bharat, touted to be the world's largest such scheme, he said, "You can understand it is our journey where we are trying to go for protection and is still developing a robust system. We understand that it will take time to stabilize, but that doesn't mean we don't go forward."
Observing that there are chances of mistakes cropping up as the scheme reaches the people, he said the government is ready to correct them. "We will be able to correct those mistakes by your (industry) intervention and close watch," he said.
"You (private sector) should also join this programme and change the health scenario of the country. I will develop a forum where we will have interaction with stakeholders," he said.
The minister also welcomed ethics code of conduct for health sector introduced by the FICCI at the event.