Rare case of jejunal obstruction with lapsi seeds reported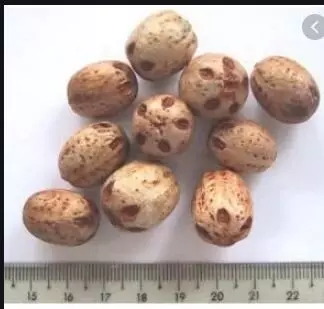 In a recent development, researchers have reported the first case of Lapsi seed stones causing partial jejunal obstruction in a 60-year-old female presented with 40-years of non-specific abdominal pain.

The interesting findings of the case have been reported in International Journal of Surgery Case Reports.
Choerospondias axillaris (also called as Nepali hog plum, "Lapsi" in native Nepali language) is large, deciduous, dioecious and edible subtropical fruit tree in which the fruit is consumed fresh, pickled, or as a processed ingredient in a variety of sweet and sour products.
The Lapsi seed stone is generally not ingested. If it is eaten, it passes the healthy gastrointestinal (GI) tract uneventfully. What effect GI secretions have on Lapsi seed stone, when seeds resided within GI tract for longer durations, hasn't been studied in humans.
In general, foreign bodies are typically found impacted in pylorus, duodenum, duodeno-jejunal flexure, Mickel's diverticulum, ileo-caecal junction and previous surgical sites. Foreign body obstruction at distal part of jejunum is uncommon.
The aged female patient reported to the Surgical Outpatient Department (SOPD) with a chronic abdominal pain for 40-years. She complained of intermittent abdominal distension with mild to moderate abdominal pain. The pain was aggravated by eating and was associated with occasional nausea and vomiting of gastric contents. There was no reported change in bowel habits (frequency or consistency). She reported anorexia and gradual weight loss.
On clinical examination, her general condition was fair. She was conscious, alert, fully oriented. On inspection, her abdominal examination revealed asymmetric bilateral iliac fossa with mild bulging in right, compared to the left, iliac fossa. Hypoactive bowel sound was noted on auscultation. She exhibited mild tenderness, without rebound tenderness, guarding, or rigidity, at umbilical and right iliac fossa region during abdominal palpation.
On performing a contrast enhanced computed tomography (CECT) of abdomen and pelvis,it showed: (1) Dilated segment of jejunum with circumferential submucosal edema and abrupt distal narrowed lumen suggestive of stricture. (2) Multiple round (in axial plane) to oval (longitudinal plane) hyperdense foreign bodies of nearly similar size with air attenuating areas and spoke wheel appearance was noted in the dilated bowel .
Seeds of Choerospondias axillaris (Nepali hog plum, native language: lapsi) became the first suspicion after considering various possibilities.
An exploratory laparotomy was planned to assess the jejunal foreign body and the resulting chronic dilation. Nineteen lapsi seed stones (each measuring ∼2.5cm × 1.8cm × 1.8 cm) were removed. The postoperative recovery of patient was uneventful with complete resolution of pain.
For full article follow the link: https://doi.org/10.1016/j.ijscr.2020.08.048
Source : International Journal of Surgery Case Reports