GE pays Rs 1 crore in settlement to technician who got stuck in MRI at Tata Memorial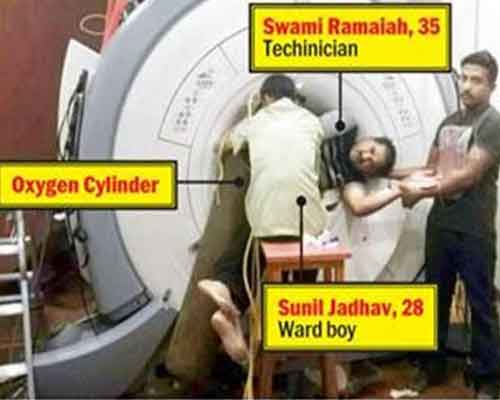 Mumbai: Rs 1 crore compensation/settlement has been awarded to a technician at Tata Memorial Hospital at Navi Mumbai, who had become paralyzed waist down after getting stuck in an MRI machine for four hours in a bizarre accident.
The accident dates back to year 2014, when a technician Swami Ramaiah, 40 had unfortunately become stuck in the MRI machine, after a ward boy walked into the room mistakenly carrying an oxygen cylinder triggering the machine's monstrous magnetic field, reports Mumbai Mirror. The moment the metal was brought into the the room, the magnetic field of the machine pulled the cylinder along with ward boy and the technician Ramaiah who were holding the said cylinder. Both along with the cylinder got glued to the machine. The technician bearing the major brunt of the injury was stuck between the machine and the ward boy for a long duration of four hours, as the switch-off button of the said machine had been disabled by the manufacturer, General Electric. Finally, four hours later, engineer from GE came and deactivated the magnetic field. Both the technician and the ward boy were immediately rushed to Bombay Hospital.
Dr Vinay Jacob, a senior plastic surgeon at Bombay Hospital,noted that Ramaiah had suffered from acute compartment syndrome in the accident. "In such cases, high pressure builds up in an enclosed space in the body because of the trauma. This hampers the blood supply to muscles and nerves, which could lead to permanent muscle damage," he told Mumbai Mirror. As a result of the accident, Ramaiah had become paralysed waist down as blood circulation to his lower body was compromised, his urinary bladder was punctured, kidneys were damaged, and there was massive internal bleeding. Only recently he has gained the functioning in his legs.
After the incident, a team was formed by the Dr Venkata Varaprasada Rao, the then chief administrative officer of Tata Memorial Hospital and Dr Sudeep Gupta, Deputy Director, Advance Centre for Treatment Research and Education in Cancer (ACTREC),  to look into the matter and decide the compensation. The doctors clearly noted that the damages to the victim's body would have been minimised if the machine would have been switched off immediately, something that did not happen as switch-off button of the said machine had been disabled.
It is reported that the committee then came to the conclusion of compensation of Rs 1 crore, which was paid to the technician by GE
Mumbai Mirror adds that Both Tata Memorial and Ramaiah confirmed the payment of compensation, but refused to get into details citing a confidentiality clause in the agreement between General Electric and the victim.
To read the full story check out the link below
http://mumbaimirror.indiatimes.com/mumbai/cover-story/Rs-1-cr-settlement-for-Tata-Memorial-techie-in-freak-2014-MRI-mishap/articleshow/56978719.cms