Goa Governor says Yoga is becoming binding force in world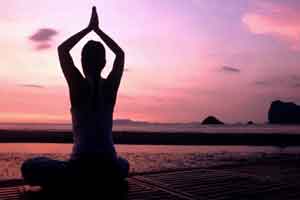 Panaji: Goa Governor Mridula Sinha has said that Yoga is becoming a binding force in the world.

Speaking at the concluding function of the two-day International Yoga Conference on Tuesday, which was held in the city, she said the practice of yoga helped overcome health problems and ailments. Dr Sinha, however, cautioned about the prevalence of fancy ideas of yoga which differed from the original concepts of Yoga. "Yoga is a way of life, living, thinking and doing," she said, adding there was the need to promote original and classical yoga.

Union Minister of State for AYUSH (Independent Charge) Shripad Naik said the response for the conference was encouraging. "Yoga is the ancient culture and spiritual heritage of India..The approach of Yoga is holistic. The benefits of Yoga go beyond geographical boundaries. It is important to spread Yoga all over India. The challenge today is to harmonize the process of globalization with ancient Indian science and spirituality,'' he said.

Secretary, Ministry of AYUSH, Government of India, Vaidya Rajesh Kotecha, Additional Secretary, Ministry of AYUSH, Government of India, PK Pathak were among those present on the occasion.