Goa Health Minister inaugurates upgraded Primary Health Centre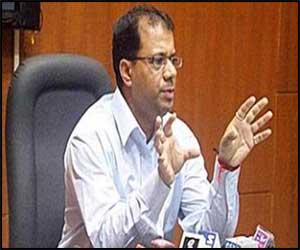 100 new modern Anganwadis would be constructed with an advanced educational system like e-learning under Women and Child Development
Panaji:  Goa Health Minister Vishwajit Rane inaugurated renovated premises for Sanguem Primary Health Centre and Quarters at Sanguem on Saturday.
Speaking on the occasion, Mr Rane assured the villagers of Sanguem of setting up two bedded emergency room with the availability of a doctor for 24x7 hrs within a fortnight and a 108 emergency vehicle and two advanced life-saving ambulances to the centre within the next week.
 Read Also: Public Health Act outdated needs Amendment: Goa Health Minister
The advanced life-saving ambulance would consist of latest health-related technology with paramedical staff, ventilator and ESG facility, he said, adding government was intending to start dialysis unit in Sanguem Health Centre.
Mr Rane said Goa was the first state to implement STEMI programme under which 46 doctors had been trained and Directorate of Health Services was using advanced technology machinery in the health sector.
Read Also: Goa Health Minister launches STEMI Goa Project
The project of constructing the new building for Sanguem Health Center by spending Rs 16 crore was also in the offing, after which it would be given the status of Upgraded Health Centre, he said and added that Rivona Sub Health Centre would also be upgraded in the days to come.
Mr Rane informed that cancer patients from Goa would need not to go to other states or abroad for the treatment once the Cancer Hospital came in the complex of Goa Medical College (GMC) and Hospital, Bambolim.
The government was of the opinion that new cancer hospital should be run by Tata Memorial Hospital, Mumbai, which was in the process, he added.
He said nutritious food would be provided to the patients at government hospitals, taking in the view that the care of patients had the same importance as of treatment.
The minister informed that 100 new modern Anganwadis would be constructed with an advanced educational system like e-learning under Women and Child Development.
The Government was working on a scheme to provide financial help of Rs 30,000 every year for organizing special programmes related to women for all Mahila Mandals of the state, he said.
Goa State Infrastructure Development Corporation (GSIDC) Chairman Dipak Pauskar, who was present on the occasion, said the state was leading the way in building quality infrastructure for the state of Goa.
Currently, GSIDC was in process of building hospitals, schools, libraries, stadiums, jetties, bus stands, Ravindra Bhavan, Panchayat Ghars, market complexes, roads, bridges, children's parks etc, he said, adding government was moving in the right direction.
Read Also: Goa: Health Minister inspects super speciality block at Goa Medical College
Foundation stone for the parallel bridge at Dando, Sanguem, would be laid on January 28, 2019, and would be completed by 2022, he assured.
Sanguem MLA Prasad Gaonkar thanked the Health Minister for fulfilling the long pending demand of renovation work of Sanguem Health centre.