Govt Hopeful to pass National Medical Commission Bill, this Winter Session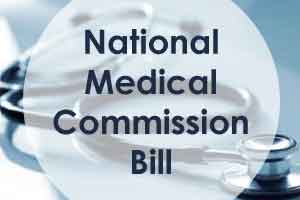 New Delhi: With the winter session of the parliament commencing, it is expected that the Modi Government is going to push for the National Medical Commission Bill, a that Bill will repeal the Indian Medical Council Act, 1956 and establish the National Medical Commission (NMC) in place of the Medical Council Of India to regulate medical practice and education.
The Winter Session of Parliament will begin on December 11, 2018 in New Delhi. The session, which is likely to have a total of 20 sittings, will conclude on January 8, 2019. There are 23 bills listed for consideration and passage during the session. Another 20 new bills are listed for introduction, consideration, and passage. Two bills have been listed for withdrawal during the session.
The National Medical Commission Bill proposes to replace 83-year-old Medical Council of India (MCI) with another body called the National Medical Commission to curb corruption in the functioning of MCI. The journey of the Bill, which was actually drafted by the Niti Aayog led panel in late 2016, has seen many ups and downs in the past two years.
It came under fire from the medical practitioners over some of its contentious clauses including the proposal of exit exam after MBBS, bridge course for AYUSH practitioners as well as limited members of elected representatives from the Medical profession in the main commission
Read Also: 11 Reasons why Doctors are opposing National Medical Commission Bill
The opposition from the doctors led to the formation of a Special parliamentary committee to take into consideration the concerns of doctors and suggest appropriate changes to the Bill. The committee earlier this year submitted its recommendations taking into account the various demands of doctors, many of which also soon met with the cabinet approval.
Read Also: Cabinet Approves 6 amendments to National Medical Commission Bill, Check out details
The monsoon session of the parliament did not see much movement on Bill's front. However, in the month of September 2016; the union government, through a special ordinance, dissolved the MCI and through Indian Medical Council (Amendment) Ordinance, 2018, setting up a committee of prominent doctors to run MCI, till the bill.
The government is now going to push to replace the said ordinance. It is indeed under pressure as it government must pass the bill within six weeks of the start of winter session to stop them from expiring.
Another Bill on the spotlight this session would be the Triple Talaq Bill that makes all declaration of instant triple talaq illegal and makes it punishable with imprisonment of up to three years.