Govt launches Injectable contraceptives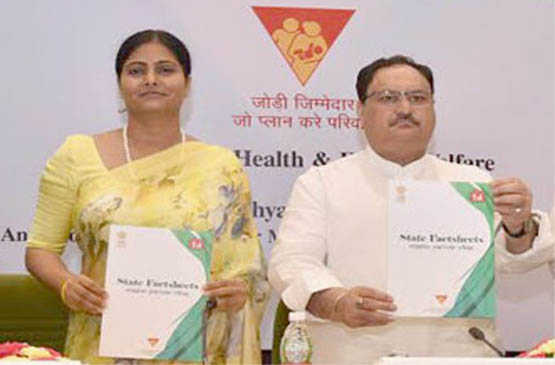 New Delhi: In a move to step up the efforts for family planning and population control, the Ministry of Health and Family Welfare introduced the injectable contraceptive on the occasion of World Population Day.
Union Minister for Health & Family Welfare Jagat Prakash Nadda launched the injectable contraceptive Modroxy Progesterone Acetate (MPA) under the 'Antara' program, initially starting off in Maharashtra.
Once injected, the contraceptive will be effective for a period of three months. Throwing light on the importance and contribution of the country regarding population control he said, 'India plays a very crucial and critical role in global efforts towards population stabilisation and family planning'.
The minister said along with a basket of contraceptives there are other schemes and programmes started by the government that encompass overall social and economic aspects of family planning and also stressed on the participation of public in such campaigns, as the government alone would not be able to bring out substantial results.
The minister also launched the 'Mission Parivar Vikas' initiative which will cover various aspects of family planning. Regarding focus of the Mission Parivar Vikas, the minister said 'The ministry has done detailed micro level planning to ensure the reach of all the initiatives to everyone till the last mile, this whole exercise involved the stakeholders and is not the kind of planning that takes place within Nirman Bhawan.'
Concerning the logistics and supply chain management of the commodities related to population control and family planning the ministry also launched the 'Logistics Management Information System', a database that would enable fault free dispersion of the commodities with regard to family planning and will also enable real time monitoring of such commodities.
The ministry in view of promoting social awareness in villages and specially in the 146 identified districts with high fertility, has launched communication campaigns through a new radio program 'Hum Do', TV ads, print Ads ,Posters , Helplines to promote the need of family planning.
This campaign also includes aspects that effect a newly married couple like delaying first child , spouse communication etc, that have a social impact too.
Minister of State for Health and Family Welfare Anupriya Patel addressing the the National Workshop on Family Planning, said, 'On the occasion of World Population Day, it was to remind people and shake them up to remind them of the burden that population explosion has exerted upon everyone's life.' She also pointed out at the unplanned population growth in the country and said it was the reason for draining away country's resources. Ms Patel said, 'In the need for family planning, we will have to multiply our efforts and the 360 degree media campaigns will enable to motivate the people in rural areas , contributing to an over-all behavioral change.' The government aims to attain population stabilisation by 2045, and people's participation is a must to bring in the changes, she added.