Govt showcases low-cost medical innovations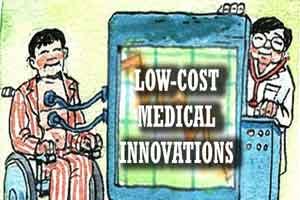 New Delhi, Jan 12 : The government showcased several low-cost medical innovations including home kits for measuring blood glucose, hemoglobin levels and real-time diagnosis of malaria, dengue.

The innovations have been developed by the Centre's Department of Biotechnology (DBT) as well as by start-ups supported by the government.

Union Minister for Science and Technology Harsh Vardhan , who was present on the occasion, said that India's medical technology was fourth largest in Asia and by 2025 it will be worth USD 20 billion.

"Innovation in health care and medical technology is especially of paramount importance and can accelerate the country's social and economic growth. The benefits of the innovation should reach the masses," he said.

AINA, one of the devices that was showcased in the presentation made by DBT secretary Vijay Raghvan, can be fixed to a mobile phone and one can know the blood glucose, lipids, creatinine and hemoglobin levels.

"One just needs to insert a strip to the device, which costs around Rs 10. The company has received order for 25,000 such strips," Renu Swarup, senior adviser to the DBT and Managing Director of Biotechnology Industry Research Assistance Council (BIRAC) said.

Similarly another device showcased enables real time diagnosis of malaria, dengue and typhoid. The Limb Immobilisation (LIMO) ensures that after an accident, the diagnosis of the injuries is done without much disturbance to the patient.

"India witnesses 15 million accident cases, of which five million cases involve injury to limbs. LIMO ensures that diagnosis of the patient can be done right from the first aid to X-Rays and MRIs by strapping this device to support the injured leg.

"This is first of its kind in the world and costs only Rs 249," said Prof Balram Bhargava, a cardiologists and Executive Director at the School of International Bio design, a DBT funded initiative.

Elaborating on the innovations in medical technology, DBT secretary Vijay Raghvan said that BIRAC has supported nearly 300 start-ups and SME's and 150 young entrepreneurs for innovation, research and product development.

He noted that attempts were being made to not only make these products globally competitive, but also market them well to ensure that the money invested by the government in either developing or promoting these low-cost medical facilities percolate to the ground level and give relief to the masses.