When President Gave Award to a fake Doctor!!!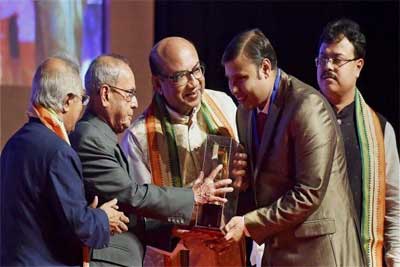 Kolkata: A recent arrest of a  "famous doctor" has indeed shocked the medical fraternity as well as public in the state after it was revealed that all his claim to fames and his medical degrees were fake
Howrah police has arrested a bogus doctor who claimed to be a member of the Sub-Committee for Medicine/ Physiology at Nobel Foundation, Freelance Researcher cum Advisor at QIMR Berghofer Medical Research Institute, Research Report Reviewer at American College of Physicians (ACP), Joint Secretary, Howrah Medical Club, as well as an alumnus of Royal College of Physicians, London, American Public Health Association at University of Wisconsin-Madison, Stanford University School of Medicine: Center of Excellence, University of Oxford, Harvard Medical School, School of Clinical Medicine at University of Cambridge, Massachusetts Institute of Technology (MIT) and Calcutta National Medical College & Hospital, Kolkata.
Subhendu Bhattacharya, known in his locality for his dedication for social service and free treatment to poor was arrested for playing with the lives of thousands of people by practicing medicine on the basis of fake degrees and certificates.
He also claimed to hold a Guinness World Record for being the youngest member of the Royal Colleges of Physicians, and was recently awarded the lifetime achievement award by President Pranab Mukherjee during the 6th Dr Malati Allen Nobel Award in Kolkata.
The fraud came to light after Dr Ayan Bhattacharya (a post-graduate medicine student at the All India Institute of Hygiene and Public Health in Kolkata) lodged a complaint with the Bantra police station in Howrah, saying that Subhendu was using his medical practice registration number and was running a private nursing home.
"This is an alarming situation and the CID has already seized his nursing home in Howrah. He played with the lives of so many people. He will be punished as per law," Nirmal Maji, chairman of the West Bengal Medical Council, told News 18.
3 more institutes sealed
The CID inspections have also led to discovery of 3 more "medical institutes" at Bowbazar, College Street and Chowringhee Road, that offered alternative medicine degrees and which were sealed by the agency . TOI reports that the city police also found a bogus medical college at Kalighat. Whats more shocking is also the fact that this "medical college" has been operational for more than a decade. The police source added, it provided different addresses on their certificates.
The police told TOI they have identified four doctors with fake degrees three from a Thakurpukur private hospital and another working with a south Kolkata hospital -who have been practising for decades.Currently , all of them are absconding. One of the accused even passed himself off as gra duate of AIIMS Hospital in Delhi," said an officer. Another fake doctor Md Izaz Ahmed of Baruipur's Piyali, who studied only till class XII and practised at a local dispensary for over three years, was arrested on Friday as he had no registration certificate. The government authorities are still wondering how these fake doctors got employed at government setup.