Gunda Raj: Armed men demand treatment from doctor at Gunpoint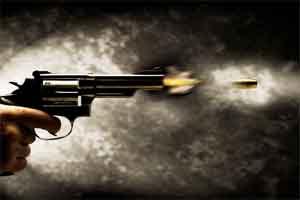 Hooghly : In yet another example of the growing  Gunda raj against medical practitioners, a gang of armed men beat up doctors and other staff of a nursing home when they tried to resist vandalism at the medical facility at Serampore in Hooghly district

The trouble started when about 10 to 12 miscreants barged into the private nursing home and asked doctors to treat their wounded colleague last evening. Brandishing a pistol they asked the  resident doctors to treat the man quickly at the ICU. The entire footage was captured on CCTV footage of the Paramount Nursing Home in Sreerampore, Hooghly district, where the hooligans are seen rushing to the Intensive Care Unit (ICU) where they pointed a gun at the doctor on duty and demanded immediate care for their friend who they claimed was injured in a car accident.

As the gang refused to sign official papers, they beat up the receptionist.  They also vandalised the medical facility.

Before police could reach the spot, they fled.

Superintendent of Police Sukesh Jain said identification of the gang was being done with the help of the CCTV footage.