Harsh Vardhan reviews Clean Air Campaign in Delhi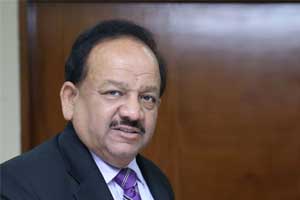 New Delhi: Environment, Forest and Climate Change Minister Dr Harsh Vardhan reviewed the preparations for the two-week long drill to contain air pollution in Delhi, with officials of his ministry and representatives from Delhi government, Central and State pollution control agencies, four Municipal Corporations of Delhi and New Delhi Municipal Corporation.
Besides Dr Harsh Vardhan, Minister of State for Environment, Forest and Climate Change Dr Mahesh Sharma, Delhi's Environment Minister Imran Hussain, Secretary in the Ministry of Environment, Forest and Climate Change C.K. Mishra, Chief Secretary of Delhi Anshu Prakash were among those present at the review.
"The campaign should not be just symbolic. Compliant and feedback should be monitored from the ground," Dr Vardhan told the officials. "It is not the just technical requirement, it is the moral responsibility of all agencies, both Central and State. A message should go that we are serious. It is linked to our national image now." said Dr Harsh Vardhan addressing the meeting.
The minister said a model should be created at the end of the two-week campaign to combat air pollution across the country.
Officials of the Ministry of Environment, Forest and Climate Change told the participants that 131 tonnes of dust emit in Delhi every day, and controlling it itself would bring down air pollution drastically.
The Centre had recently notified dust mitigation norms. This mandates - (i) No building or infrastructure project requiring Environmental
Clearance shall be implemented without approved Environmental Management Plan inclusive of dust mitigation measures. (ii)Roads leading to or at construction sites must be paved and blacktopped (i.e. metallic roads), (iii) No excavation of soil shall be carried out without adequate dust mitigation measures in place, (iv) No loose soil or sand or Construction & Demolition Waste or any other construction material that causes dust shall be left uncovered, (v) Wind-breaker of appropriate height i.e. 1/3rd of the building height and maximum up to 10 meters shall be provided, (vi)Water sprinkling system shall be put in place and (vii) Dust mitigation measures shall be displayed prominently at the construction site for easy public viewing.
Dr Harsh Vardhan told the officials that rules should be enforced and there should be no laxity.
The teams are empowered to take on-the-spot actions against violators and if necessary issue "stop-work" orders, said the officials, who briefed the meeting. The campaign would also include enforcement of pollution-control measures for vehicles, driving discipline, inspection of power plants in Delhi to ensure, it complies with the norms on pollution, etc.
Delhi's Environment Minister Imran Hussain has extended full support from his government to the campaign. He congratulated Dr Harsh Vardhan for the initiative.
Delhi's Chief Secretary Anshu Prakash suggested the state government will enlist the support of schools across the national capital to sensitise students about the gravity of pollution and its short and long-term impacts. Besides, Delhi Police and Transport Department of Delhi would also be involved in the campaign, he added.
Besides field surveys by empowered teams of officials, there would be a series of seminars during the period on mitigation of pollution. These include, workshop on Environmental and Health; Air Pollution Abatement Technologies;enlisting support from NGOs, Civil Society, Citizens; Clean Air Day in Universities, Colleges and Schools; a Mini Marathon for Clean Air;enhancing the role of PSUs and industries, apex industrial bodies;launching a national digital forum for discussions on air pollution; Indoor Air Pollution Management and finally a conference of Environment Ministers of States and Union Territories.
Officials said, they would monitor the pollution level at the end of the campaign and hoped it would improve drastically. The exercise would continue throughout the year with the participation of local bodies and RWAs. A war room would be set up in the Central Pollution Control Board, to monitor daily progress and suggest midway corrections, if required.