Harsimrat asks Pb govt to expedite work on road for new AIIMS in Bathinda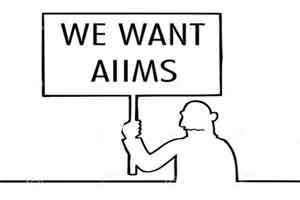 Chandigarh: Union minister and SAD leader Harsimrat Kaur Badal today asked the Punjab government to expedite the construction of an approach road to the AIIMS work site in Bathinda.
The Union Food Processing Minister also asked the state government to speed up civil works and that of setting up a power grid station to ensure the project does not suffer further delays.
Union Health Minister J P Nadda had brought these issues to the notice of the Punjab chief minister last month. The state should not waste time and complete these projects as further delay would be detrimental to poor patients of Punjab's Malwa region, the Bathinda MP said.
"The project has been delayed considerably due to late clearances by the state government to shift out water channels from the project site. The people of Malwa cannot afford any further delay," she said.
Badal said the Union Health Minister had already brought it to the notice of the chief minister that the state should complete the construction of the approach road.
Similarly a 66/11 KV power sub-station needs to be set up in the campus, besides construction of sewerage and storm water disposal points, she said.
"The state government also needs to construct an over bridge over a railway track for uninterrupted connectivity to the new AIIMS from the city, besides another entrance to allow for separate access to residential areas," the minister said.
Badal also asked the chief minister to direct departments concerned to ensure completion of all civil works to meet deadlines.
The minister said the master and concept plans have been finalised by the executing agency and the contract for construction of the campus building is likely to be done next month.
"When the Centre is moving fast to complete the project as per the timeline, it is incumbent on the state government also to complete all necessary civil works to ensure the project is not delayed in any manner," she added.