Sex determination racket busted in Haryana, Doctor nabbed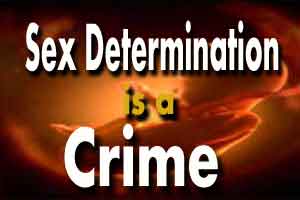 Chandigarh: A health department team from Haryana's Panchkula busted an alleged sex determination racket being run at a private hospital in Punjab's Fatehgarh Sahib district. The authorities have nabbed Dr Mahesh Kumar, a BMS practitioner, red handed for conducting sex determination test and recovered Rs 17,000 from his possession. The officials of PCPNDT team revealed that Dr Mahesh was not even authorized to conduct scan and was not registered with the district health authorities
The raid at the hospital was conducted after coordinating with the Fatehgarh Sahib deputy commissioner and chief medical officer, Panchkula Deputy Commissioner Gauri Prashar Joshi said.
On a tip-off, a team from the Panchkula district administration sent a decoy customer, hailing from Haryana to the hospital, she said.
The team then carried out a raid after the hospital staff conducted sex determination tests. They were caught red-handed with the amount paid by the decoy customer, the officer claimed in a release.
The department had information that some people from Haryana were being lured by the touts for sex determination test at the private hospital at Fatehgarh Sahib, Joshi said.
The officer said that Rs 10,000 and Rs 7,000 was recovered from a doctor and a tout, respectively. Under the PCPNDT Act, Dr Mahesh is not even authorized to conduct scan and was not registered with the district health authorities. The machine is registered under the name of a gynaecologist,  Dr Madhurima, who was not present at the hospital at the time of the raid
A case was being registered against the doctor, a helper and two touts. Further investigation is underway, the officer added.
Notably, both Haryana and Punjab are infamous for their adverse sex ratio.