Haryana Health Minister launches 'Malaria Free Mewat' campaign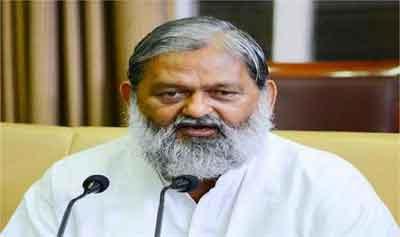 Chandigarh: Haryana Health Minister Anil Vij on Wednesday launched the 'Malaria Free Mewat' campaign under which health of about 2.60 lakh people of Mewat will be examined and treated.
The Health Minister started this campaign from his office today and said that malaria is a serious disease, which has been controlled to a great extent by our government. He said that the Central Government has set a target to make the country completely malaria-free by 2030, but our government is taking steps towards making the state malaria-free by the year 2022. As a result, the state has registered a significant decrease in malaria as compared to the year 2015.
Mr Vij said that in the year 2015, there were 9308 cases of malaria in the state, of which 6380 cases were registered only in Mewat region. He said that this figure of the state had come down to about one third, that is, 3154 in the year 2018, whereas in the Mewat region, about 1968 cases of malaria were reduced by about 64 per cent, which is a major achievement. This campaign will prove more effective in this direction and the state and Mewat will get complete freedom from malaria, he added.
The Health Minister said that about 60 to 70 per cent of malaria cases are found in the Mewat region. Therefore, the four Community Health Centres, which are most affected by malaria, have been selected namely Ujina, Sudka, Bai and Nuh, in which special attention will be given. He said that intensive investigation and medical campaign will be carried out in all the villages coming under these centres. Under this campaign, about two lakh insecticides and mosquito nets will also be distributed in Mewat region to protect people from mosquitoes. The Health Minister distributed mosquito nets to the beneficiaries of Mewat during the programme.
Additional Chief Secretary, Health and Family Welfare Department, Rajeev Arora said that 80 teams have been constituted for the success of this campaign, which will go door-to-door to check the health of each person. Rapid Diagnostic Test (RDT) kit will be used for its quick results and the person suffering from malaria will be treated immediately. In addition, fogging and focal spray will be done in the affected areas. Apart from this, special arrangements will also be made to make people aware.
Read Also: 9 districts to be Malaria Free this year: Haryana Health Minister Vij