HC rejects bail plea of Purnima Shukla in BRD Medical College case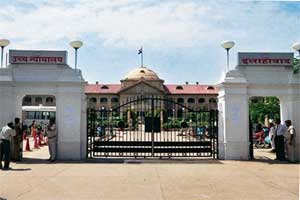 Allahabad
:  The Allahabad High Court rejected today the bail application of Purnima Shukla, the wife of Rajiv Kumar Mishra, the principal of Baba Raghav Das (BRD) Medical College in Uttar Pradesh Gorakhpur, where several children had died allegedly due to disruption in oxygen supply.
Read Also: 
Ex-BRD principal,Dr Rajiv Mishra; wife Dr Purnima Shukla picked up by UP police
Shukla was an attached homoeopath at the medical college and had allegedly interfered in its functioning.
 Earlier on April 30, the court had turned down the bail plea of Mishra in connection with the deaths of children.
Declining to grant bail to Shukla, Justice Yashwant Varma said that an order for the release of the petitioner on bail could not be passed at this stage keeping in view the present facts and circumstances of the matter.
Over 30 children had died at the medical college on August 10-11, 2017 allegedly due to disruption in oxygen supply as the vendor had not been paid for several months.
Read Also:
BRD medical college ex-principal, wife sent to 14 day judicial custody
The plea of the petitioner was that she had been languishing in jail for the past seven months. Further, other co-accused have been released on bail in this matter.
Opposing the bail application, the state counsel pleaded that the case was a very serious one and it was due to the alleged role of the petitioner, the oxygen supply was stopped.
The counsel alleged that the petitioner had played an important role in the functioning of the college and at her alleged instance, the college authorities had stopped payment to the company, which used to supply oxygen for getting illegal kickbacks (commission).
As a result, the company stopped oxygen supply and which resulted into the tragic deaths of several children at the hospital. Hence, she did not deserve to be released on bail, the state counsel argued.
An FIR was registered on August 23, 2017 against nine people, including Mishra and her wife in connection with the deaths of 30 children.
Among the nine accused, the high court has granted bail to Manish Bhandari, director of oxygen supplier company Pushpa Sales and Dr Kafeel Khan.
Read also:
Gorakhpur tragedy: Oxygen supplier to BRD Medical College arrested