Health Department Medical Officer lends helping hand in Cyclone torn Odisha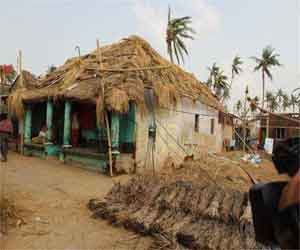 Guwahati: As Odisha picks up the pieces to put itself together post-cyclone 'Fani', a young Assamese doctor is among the people lending their support in re-building the eastern coastal state.
An Ayush Medical Officer in Rashtriya Bal Swasthya Karyakram, Dr Rayesh Routray is a part of the state's Health department and has been busy executing her duties in the midst of nature's fury and human sufferings.
A part of Team one in Mendhasal block, under Bhubaneswar rural block, Dr Rayesha and her colleagues have been tending to people in shelter homes and health centres.
"Immediately after the cyclone, we visited the shelter homes opened in the government schools. We checked for possibility of any medical epidemic and general health status and everything was found in order," she said, adding that the work done by the ASHA workers, who routinely undergo training sessions, in the area has ensured that small illness did not aggravate.
Read Also: Cyclone Fani ALERT in Odisha: Chief District Medical Officer suspended for not joining duty
"Now the people have returned to their homes and villages. We are now visiting the health centres," she added.
The people were put in the shelter homes in the area since May 2 and were provided with all meals and other essential provisions during the stay.
Working in the government health sector in Odisha since 2014 and having also been a part of the relief operations during 'Hudhud' cyclone that same year, Dr Rayesha pointed that the training and the commendable work done by the grassroots workers, like the ASHA workers, has helped check outbreak of any major medical epidemic.
Women undergoing their menstrual cycles during the cyclone period have been provided with free sanitary pads to ensure hygiene, she added.
"The devastation has been widespread and restoration of normalcy will take time. But at least as far as providing health services is concerned, the government is on top of things," Dr Rayesha, a native of Assam who has now settled in Odisha, said.
She further said not only are the health officials assigned specific zones and blocks after any such calamity, but their work is also closely monitored by the higher authorities and there are numerous instances of the department cracking the whip on anyone found failing to execute their duties.
"A team in our block has reportedly faced disciplinary action this time as they apparently failed to visit the areas specified for them," Dr Rayesha said.
She added that she was unaware of other Assamese doctors in the government sector in Odisha, having herself qualified to join the state cadre only after clearing mandatory examination of proficiency in Odia language.
At least 29 people were killed in Odisha in cyclone 'Fani', with the highest casualties reported from the pilgrim town of Puri so far.
Read Also: Cyclone Fani ALERT in Odisha: Leave of all doctors, medical staff cancelled