Health Minister becomes victim to Ink Attack outside Patna Hospital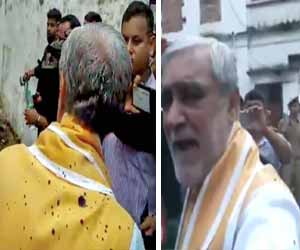 Patna:
Ashwini Kumar Choubey, the Minister of State for Health and Family Welfare recently became a victim of ink attack outside Patna Medical College and Hospital where he went to take stock of the measures in place to contain dengue outbreak in the city.
The state is currently grasped with a severe outbreak of dengue with more than 1,500 people struck down over the past five days. This comes after widespread flooding killed more than a hundred people this month and left large parts of Patna underwater, leading to the spread of the disease.
According to a recent PTI report, this attack was allegedly done by a supporter of a Bihar politician. Choubey was about to board his car, after meeting patients and holding discussions with doctors and hospital officials, when the bottle carrying the ink crashed to the ground close to the vehicle evoking exclamations from those flanking the minister.
Read Also: Tamil Nadu Medical College: Man Attacks Doctors after Father Dies, Triggers Protest
The minister's car mainly the bonnet and the window pane next to the seat he himself took – was smeared with ink blots and a flustered Choubey, who remained unscathed, told the posse of journalists at the spot "this is the handiwork of those who used to indulge in crime before entering politics".
In a video shared by news agency ANI, the minister can be seen leaving the hospital after the ink attack - he is wearing a yellow jacket that has ink stains on the back and ink stains are also visible on his car.
"It was thrown at the media. Some of the ink fell on me," the minister said.



#WATCH Bihar: A man threw ink on Union Minister of State for Health & Family Welfare Ashwini Choubey while he was visiting dengue patients at Patna Medical College & Hospital. The man managed to escape. Minister says "Ink thrown on public, democracy and the pillar of democracy." pic.twitter.com/gVxsfdLz8d


— ANI (@ANI) October 15, 2019
"The ink was thrown at the journalists and some of it on me. The people behind this are the same criminals who try to become political leaders today. Today ink has been thrown on the public, on democracy and the pillar of democracy," Mr Choubey told ANI as he was leaving.