MCI replacement: Health Ministry reconstitutes National Medical Commission Medical Advisory Council (NMC MAC)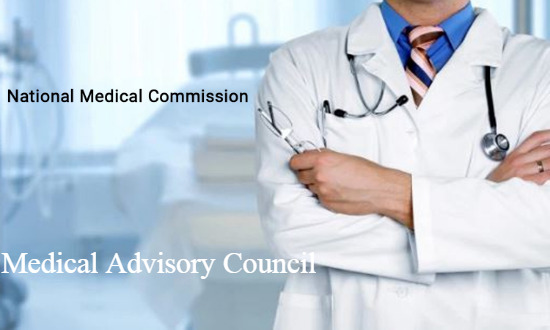 New Delhi: Through a recent government notification, the Ministry of Health and Family welfare has announced the changes in the constitution of the National Medical Commission (NMC) Medical Advisory Council (MAC). providing representations to the newly formed union territories of Jammu and Kashmir and Ladakh
Under the NMC, the Medical Advisory Council will be the primary platform through which the States and Union territories may put forth their views and concerns before the Commission and help in shaping the overall agenda, policy and action relating to medical education and training. The Council shall advise the Commission on measures to determine and maintain and to co-ordinate maintenance of, the minimum standards in all matters relating to medical education, training and research. The Council shall advise the Commission on measures to enhance equitable access to medical education.
As per the basic constitution of the MAC, apart from ex-officio members including the Chairman and Members of the commission, it will contain one member who is the vice-chancellor of every health university of every state, one member from each state and UT who is nominated by the state medical council to represent that state. Besides it also contains Chairman, University Grants Commission; Director, National Assessment and Accreditation Council and 4 members representatives holding the post of Director in the IIT,IIM and IIS as members
In October 2019, the Health Ministry had announced the constitution of the NMC Medical Advisory Council appointing Dr Manoj Kumar Dhar, Vice Chancellor, Health University, Jammu & Kashmir as a member in Medical Advisory Council representing State of Jammu & Kashmir.
Read Also: Union Health Ministry Constitutes National Medical Commission MAC, check out the members
However, soon after with the Jammu & Kashmir Reorganization Act, 2019 came into force and with the same, the State has been reconstituted into two Union Territories namely Union Territories of Jammu & Kashmir and Union Territories of Ladakh.
Therefore, Dr. Manoj Kumar Dhar has ceased to be a member of the Medical Advisory Council representing State of Jammu & Kashmir and his appointment/nomination has been shifted to as stating.Dr. Manoj Kumar Dhar, Vice Chancellor, Health University, Union Territory of Jammu & Kashmir
At the same time, Shri Chewang Phunsog (IAS Retd.), Vice Chancellor of University of Ladakh has been nominated as the representative of Union Territory of Ladakh