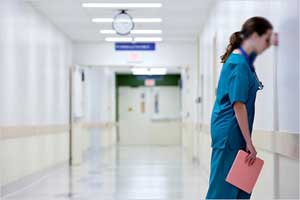 New Delhi: The board at All India Institute of Medical Sciences (AIIMS) has reportedly given its consent to open a wellness clinic for its doctors and medical students. The approval came in view of the unfortunate instances that the institute has faced since few years where several doctors and medical students dealt with mental exhaustion and workload stress which either pushed them to commit suicide or admitted them to psychiatry ward.
The administration will appoint Psychiatrists/psychologists and vocational counselors to help the medical professionals deal with their mental stress. A helpline number will also be generated for those who want to share their problems.
While talking to TOI, Chief spokesperson of AIIMS, Dr Aarti Vij informed, "To address the larger issue of dissatisfaction or stress among students and residents, which drives them to suicide, the institute has decided to open a wellness clinic. In-principle approval has been given for it." She added that plan is to have at least two psychologists and a vocational counselor to begin with and, then, expand the team further.
Medical dialogues earlier reported about the plight of doctors at the institute five doctors attached to the hospital had been admitted to the psychiatric ward within a span of one week, seeking treatment for mental health. The news which did not come as a surprise to many familiar with the plight of resident doctors indeed raises questions of the mental safety of doctors working in government hospitals.
Most recently, a PhD student from the Microbiology department of AIIMS, who survived an attempted suicide bid, was seen accusing his supervisor of mental harassment, abuse and delay in his fellowship.
Dr Nand Kumar, professor of psychiatry at the institute, confirmed that he used to see 2-3 medical students and doctors every month.  He said that they approached him for counselling and suggestions. "But detailed examination and discussion often reveal sub-clinical depression or burnout," he told TOI.
Currently, the institute runs those programmes which concentrate on freshers getting used to the new environment. Dr Vijay Kumar, a senior resident at AIIMS, highlighting the issues of resident doctors added  "Many students coming from rural areas have problems coping with the academic burden. Some of them need guidance. Senior residents often face problems due to long working hours and lack of hostel facilities. Some of them live in cramped rooms. These issues must be addressed too."
1 comment(s) on Helping Doctors deal with stress: AIIMS to open Special Wellness Clinic