Himachal gears up to eliminate tuberculosis by 2023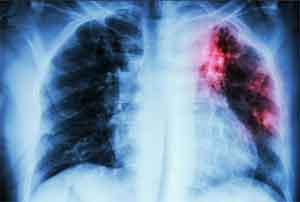 Shimla: Himachal is committed to eliminating tuberculosis(TB) by 2023, according to a health department spokesman here.
The spokesman said in a press statement that a new scheme Mukhya Mantri Kshay Rog Nivarna Yojna(MMKRNY) has been launched in Himachal Pradesh with a motive to achieve the target to end TB by 2023. As many as 12 CMEs for private practitioners, 12 workshops for chemists have been conducted across the State under MMKRNY.
About 14 thousand TB patients are diagnosed and put on treatment each year in Himachal Pradesh in Government Health Institutions. In 2017, against the target of 14070, State diagnosed and put near 15000 new TB patients in the Government Health institutions. Against the target of 2500, near 900 new TB patients were notified from the private sector in the State. There is a gap in the notification from the private sector in Himachal Pradesh. Nearly 550 TB deaths are reported each year in the Himachal Pradesh.
There are 450 drug-resistant TB cases of treatment as on today; out of which near 300 diagnosed and put on treatment.
Revised National Tuberculosis Control Programme (RNTCP) has been implemented in Himachal Pradesh in a phased manner. Hamirpur is one of the first pilot districts in India to take up the activity in 1995, followed by Kangra and Mandi in 1998.
The entire state was covered in January 2002. Treatment of TB patients is given under direct supervisor which is called DOTS. But due to various reasons some patients do not complete the treatment or take incomplete treatment. Some experts also prescribe TB medicines from the market, which are costly and the patient stop taking drugs in between.
The incomplete, inadequate treatment and different regimens of treatment lead to the emergence of Multi-Drug Resistant TB (MDR TB) which does not respond to available drugs. This form of TB is difficult to control and the treatment is also costly. There is no doubt that if TB patients are diagnosed by quality assured laboratories and treated under DOTS by health care system involving all sectors, we can reduce this new form of TB.
The objective of RNTCP objective is to achieve 90 per cent notification rate of all cases and to achieve 90 per cent success rate for all new and 85 per cent for re-treatment cases.
Total 17,638 patients notified against the target of 16,570. Duplicate entry is the issue for an over performance. Total 15,023 patients registered in 2018 till November 24 and notification from Private Sector improved as compare from last year . 4 District DRTB Centre (Kullu, Una, Chamba&Hamirpur) & Nodal DR-TB Center IGMC Shimla was made Operational in 2018 . 6 District DRTB Centres (Nahan, Bilaspur, DDUH, ZH Dharamshala, RecongPeo, Keylong) and 01 Nodal DRTB Centre (ZH Mandi): Civil work is under process. Civil work of State Drug Store TBS Dharampur: Civil work is yet to start.
CBNAAT machines have been installed in Kullu, Palampur, Nurpur, Rampur, Keylong, Recong-Peo, DDU ZH Shimla, Jawalamukhi whereas installation of CBNAAT machines in ZH Dharamshala, CH Nalagarh and IGMC Shimla is under process. The state has one of the old TB Hospital called TB Sanitorium in Dharampur in District Solan. It has several components of RNTCP.
PRI Sensitization workshops are currently going on across the State under MMKRNY. State rolled out a new MDR TB drug Bedaquiline in July 2018 and total of 25 patients have been put on treatment. Two rounds of Active TB case finding (ACF) campaign has been conducted in most districts of the State and nearly 170 cases have been detected through this campaign.
TB Mukt Himachal Abhiyan Pakhwada - special active case finding campaign will be organized throughout the State in January 2019.