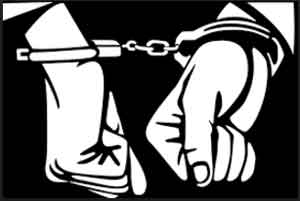 Kalyan: Following the recent doctors' assault at the Holy Cross Hospital in Kalyan, the Police have now booked 105 people involved in the said case while only 5 have arrested.
Medical Dialogues team had earlier reported that more than 500 people vandalized the Holy Cross Hospital at Kalyan and beat up 15 doctors including senior medical practitioners, after the demise of a 22-year-old patient who suffered an MI (Myocardial Infarction).
The five arrested persons identified as Yogesh Kishan Bhoir, Mahesh Laxman Bhoir, Anmol Baban Bhoir, Ramdas Narayan Bhoir, and Haresh Gurunath Patil.
The police had registered two cases against the assaulters. The first FIR was against 80 persons for assault on healthcare personnel and the second against 25 persons for attacking a local journalist, Ketan Betawdkar, who was covering the 500-strong mob's vandalism.
The complaint was filed by the hospital's director, M Roderick. Besides the IPC and the Bombay Police Act, the first FIR also presses charges under a 2010 law that makes an assault on a healthcare provider a non-bailable offence, reports TOI
According to a source, the police have identified many of the attackers from CCTV footage from the hospital and a medical store that is close by.
The mob created a total roadblock at Karnik road. Hospital structure/cash counter glass was broken and management staff was told to go out from the hospital, post which the entire three-storey building was totally vandalized by the patient relatives.
As the mob began targeting the doctors at the hospital with acid bottles, nearly 15 doctors took shelter by hiding in various corners of the hospital. They remained hostage in the hospital, nearly three long hours before police managed to release them from the rear entrance of the hospital.
Read also: Mob attack at Holy Cross Hospital: 15 doctors injured, Acid Bottles thrown, doctors held hostage for 3 hours
Dr Mahendra Chaubey, in charge of the hospital's administration, told TOI, "All except two critical patients have been transferred. We have suffered losses of lakhs of rupees. A damaged imaging instrument used in OTs alone costs Rs 10 lakh."
IMA Mumbai's secretary Dr Parthiv Sanghvi told TOI, "Doctors across Maharashtra are extremely pained by the horrific and dastardly act of violence and vandalism which took place at Holy Cross Hospital. There is a feeling of insecurity among doctors."
0 comment(s) on Holy Cross Hospital Vandalism: 105 attackers booked, 5 arrested