Home Minister inaugurates Infosys Red Cross Sarai in PGI, Chandigarh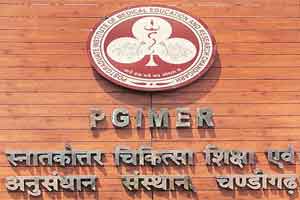 Chandigarh: Union Home Minister Rajnath Singh inaugurated a multi-storeyed 300 bedded Sarai for patients at the Post Graduate Institute of Medical Education and Research.
Fitted with modern energy saving and energy efficient equipment, the Infosys Foundation Red Cross Sarai facility is likely to ease the hardships of visiting patients and their families at PGI.
It was built at a cost of Rs 22 crore, Chairperson of the Infosys Foundation Sudha Murthy told reporters here.
 Union minister had laid the foundation stone for the construction of the sarai on September 9, 2016.
It consists of 300 beds, 36 dormitories and 13 private rooms. There are lifts and ramps available making it easily accessible for the differently-abled. There is a separate wing on the third floor exclusively for women.
Common areas include a 75-seater cafeteria, waiting hall and reception, administrative office, stores, lifts, service areas, etc, said an official release.
The Union minister also inaugurated Administrative Block and Auditorium in government medical college and hospital in sector-16 here.
Built at a cost of 12 crores, the Administrative Block covers an area of 54,537 square feet that has five floors and a basement. The Auditorium has been built at a cost of 4.50 crore, the release said.
Meanwhile, a few members of National Students Union of India (NSUI) who planned to show black flags to Rajnath Singh, were taken to preventive custody.