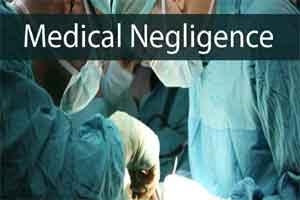 Mumbai: Calling it not a case of accident but blameworthy rashness, the Maharashtra State consumer dispute redressal commission was seen ordering a doctor to pay a compensation of Rs 41 lakh in a case of medical negligence that led to the death of a female patient 15 years ago.
The commission observed that Dr Ashit Hegde, intensivist attached to PD Hinduja Hospital  lacked skill and due care while treating her for collection of fluid around her lungs that resulted in a rupture of her spleen leading to her death.
The case was that of a 35 year old female, who had come to casualty to the hospital, with complaints of breathlessness and chest pain. She had earlier been advised hospitalization on account of suspected hepatitis. At the casualty Dr Hedge diagnosed her with Plerual Effusion and began treatment with procedure of tapping to take out excess fluid.
The family of the patient alleged that the doctor was negligent during treatment and punctured her spleen while doing tapping for Pleural Effusion, leading to internal bleeding and her eventual death. The counsel for the patient argued that that negligence was evident, as while tapping her with a needle twice to clear the effusion, Dr Hedge had failed to take help of an ultrasound. "There was profuse internal bleeding," he said. A scan showed that the needle had punctured the spleen. The doctor then admitted her and sought to remove the spleen.
The doctor denied any negligence and argued that the patient suffered from alcoholic hepatitis and early cirrhosis of liver reports TOI.
The commission said, "It is true that the patient would not have survived for many years with such ailments… but Dr Hegde is personally blameworthy for the punctured spleen which hastened the death."
The doctor had "casually" performed what he said was a "minor procedure" on the woman on July 23, 2002, in the hospital's casualty section, after diagnosing "pleural effusion", the commission observed
"The subsequent decision to remove the affected spleen, in a major operation, was the obvious cause of death in post-mortem findings and established the doctor's negligence," said the commission while slapping a compensation of Rs 41 lakhs on the doctor.
What is also interesting to note in this case is that based on the arguments put forward by all the parties, the commission concluded that the hospital was not at fault and absolved it. "Hinduja Hospital has no role in the deficiencies in service rendered to the patient," held Justice A P Bhangale, the commission president, and judicial member D R Shirasao.
"This was not a case of accident but blameworthy rashness…on the part of Dr Hegde," said the judgment.Hospitals generally have a vicarious liability in cases of medical negligence
While the family had demanded a compensation of Rs 87 lakh, the commission observed the demand to be exorbitant and reduced the amount to Rs 41 lakh
"Compensation cannot be a lottery or a jackpot for a patient who was suffering from jaudince, hepatitis for which she was under Dr Hegde's treatment."
28 comment(s) on Hospital Absolved, but Doctor fined Rs 41 lakh in medical negligence case